If you're constantly feel like a hot mess, then you may be chronically disorganized. Which is bad news. But there's good news too…
I have three simple home hacks that will completely change your life if you're chronically disorganized.
Seriously. I've been there.
I remember constantly feeling like everyone else had their life together except me. Let's explore that for a minute.
When the dishes and the laundry pile got bigger every day, but never managed to get done.

When I actually threw out laundry because I left it in there so long that it got moldy. (

Actually, I've done that more than once.)
When I would go out and spend $300 on groceries and then never eat them.
When I went for fast food so much that I knew everyone that works there and what shift they work.
The worst part of chronically disorganized is that it usually comes out in how you handle your money. You know what I mean, when you're crossing your fingers when you swipe your card and hoping there's enough money to cover the charge?
Chances are you're likely not as bad as I was. (And if you were… this is a no judgement zone… let your hot mess flag fly free).
Thankfully, our past doesn't define our future and I was able to replace those habits that left me feeling constantly frazzled, broke and stressed with simple routines that work for my personality.
I changed my entire life.
I replaced the chaos and stress with simple systems and routines. I found that when I focus on the stuff that matters, there was a lot that I could let go, and I found time for doing things that I love.
Like reading Twilight in the hammock at twilight.
Just kidding. (Not really though).
My husband and I haven't had a money fight in about 5 years (what used to be a daily occurrence) and I've dedicated my life since, to helping other people who are chronically disorganized get their life and their money under control.
In fact, I built that passion into a business that has helped transform the lives of over 65,000 people (and counting).
Not sure if you're chronically disorganized?
You may be chronically disorganized if your lack of planning is affecting your daily life, despite efforts to change your habits in the past.
If you read any of that and thought, it's like she's in my head, you're probably chronically disorganized. 🙂
Welcome to the club my friend. We're a fun crowd.
On the plus side, these three hacks work especially well for those that are chronically disorganized. I'd love to hear how they worked for you!
3 Easy Home Hacks to Organize Your Home (Even if You're Chronically Disorganized)
Hack #1: Use a Paper Planner and Leave it in a Central Location That's Hard to Ignore.
Use a written schedule book and leave it out on the counter open to today's page where you need to walk right by it.
I have kids and need to give them breakfast and pack lunches in the morning- so mine is prominently on the counter. It stays there all the time.
Bonus points if you can glance through it the night before.
Why this works:
Chronically disorganized people LOVE planners and schedule books… but are notorious for abandoning them quickly and not actually using them. Having a central place in your house for your planner (the place that you return to several times a day) solves the problem of you forgetting to use it.
Fun fact: Surveys say that very few chronically disorganized people can keep up with an electronic calendar and tend to do better with paper.
Hack #2: Plan for Pre-Made Convenience Meals.
On nights that you're busy, out late, or exhausted (um, maybe every night?) Plan ahead to have something stupid simple for dinner. We're talking English Muffin Pizzas or Chicken Nuggets in an Air Fryer (using an air fryer means no preheat time and they're crispier).
You spend WAY less than hitting the drive through, and dinners ready in just a few minutes.

Why this works:
You avoid the drive through because you know as soon as you get home you can have dinner ready in just a few minutes and it's something you're excited about eating (it can even taste pretty similar to that Big Mac you were going to eat).
Plus, getting a break on easy nights gives you more time and energy to tackle something that you really want to make on other nights.
Hack #3 Automate EVERYTHING.
You need things to run your house and life which requires you to buy a lot of things.
Shampoo, deodorant, all purpose spray, toilet paper, dog food, paper towels, toothpaste, light bulbs, trash bags… the list goes on and on…
And those things are costing you a lot of money and a lot of time to go out and get.
You pay higher prices at the grocery store getting them with your groceries or you spend an average of an hour or two a week picking those items up and then spend even more in impulse purchases while you're there. (Because leaving Target having spent less than $100 is impossible).
But you can get those EXACT SAME items for THE EXACT SAME PRICE delivered to your front door on a schedule of your choosing.
Why this works:
You eliminate trips to Target (and browsing the Joanna Gaines line there) as well as spending extra money on impulse purchases while you're there.
Plus, you can replace that time with things you haven't been able to find the time for…. Cough. Budgeting maybe?)
Walmart and Target are front runners for this service. Amazon is a close third, but they usually can't beat Target and Walmart's pricing (but they ship faster).
We use Target with the Red Debit Card for an extra 5% discount (Target's Red Card is completely genius but make sure you get the DEBIT card, not the credit card), plus you get an extra 5% discount for setting up a regular subscription. So I pay less than I would in the store. You can find that deal here.
If you want to get Fancy… I also set up subscriptions for dog food with Chewy.com and Organic products (like Method, Mrs. Meyers or Seventh Generation) with Grove Collaborative because they can beat the Target price.
Set this stuff up once and you're DONE. 🙂 Adjust it in the first few months as you get used to it and then you never have to think about it again.
Bonus because it makes budgeting for these things super simple since it keeps them separate from your groceries and the amount is the same every month since we auto ship it.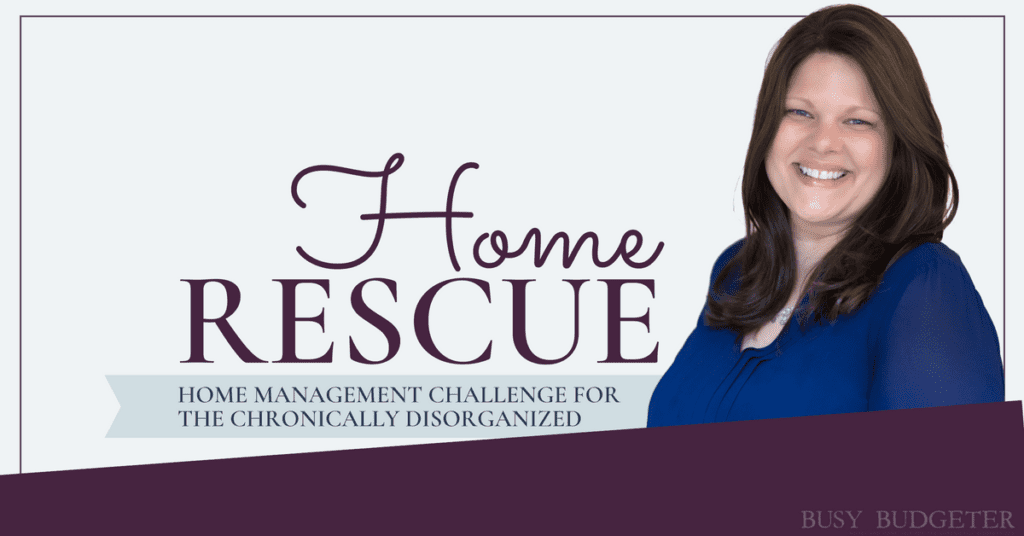 Want More Easy Home Hacks?
Are you looking for more than just hacks? Do you want the whole system?
You can join me in Home Rescue: a three day challenge for the chronically disorganized and overwhelmed.
I'll walk you through how to set up the 3 basic routines for the system that will completely change your entire life.
Bonus because it's completely free.
Let's get to work!