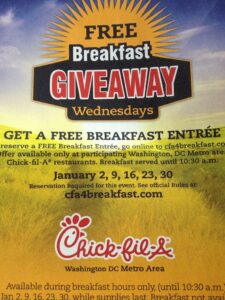 Free Breakfast at Chickfila!
Head over to cfa4breakfast.com to reserve a free breakfast entrée at participating Washington DC Metro, Charlotte NC, and California locations. It takes about 2 minutes to fill out the application, you choose your date (January 23rd or January 30th), your time slot and your menu item. It emails you an invitation to print out. Bring that invitation to Chickfila during your time slot and ta da! Free breakfast

J
Bonus points, because that will motivate me to get out and get my oil changed that day!
This post may contain affiliate links. If you click & make a purchase, I receive a small commission that helps keep the Busy Budgeter up and running. Read my full disclosure policy here.