This is a sponsored post written by me on behalf of Navy Federal Credit Union for IZEA Worldwide. All opinions are 100% mine.
While most everyone loves special holiday celebrations, when you're on a budget and trying to get your finances in order, they can be pretty stressful.
After all, there are so many ads out there telling you what to buy and how to make the day special. All that pressure can make you feel like you're missing out… especially if you have kids.
And being on a strict budget can make you wonder if your kids are missing out (hint: they're not)
But that fear is why today, I wanted to make sure to highlight some awesomely fun budget-friendly options to celebrate Independence Day with your family.

Make 4th of July themed treats
Whether your kids love to help prepare things or just like to enjoy the fruits of your labor (hint: get both!), some 4th of July themed treats are a great way to make your Independence Day special without spending a ton of money.
Some inexpensive but fun ideas:
But these certainly aren't your only options. If you're in search of more inspiration, search "4th of July treats" on Pinterest and see everything others have come up with for the holiday. There are seriously tons of ideas beyond these!
Turn your yard into a water park.
You don't need to go to a super expensive water park to have fun with your kids.
Instead, run to the dollar store, get cheap squirt guns (I've found them for 3/$1 before!), and have a good old fashioned water fight!
If you have a tarp, you can make a cheap and simple slip n' slide (add dish soap if you're feeling brave!)
Additionally, water balloons aren't crazy expensive, and having your kids fill them up can be an activity in itself.
But really, you don't necessarily need anything extra for this. Even your basic sprinkler will get kids excited, or even some Bomb Pops from the grocery store. Especially when combined with one of the 4th of July themed treats mentioned.
Kids are pretty easy to please, especially when it comes to messy/water play!
Organize a potluck-style party.
Want to gather with friends but don't want to pay a ton to have them over? Plan a potluck!
This is a great way to have a party without dropping hundreds of dollars to host everyone. It's also a fun opportunity for your friends and family to show off their favorite recipes.
One tip: Make sure you have people on main dishes, sides, and desserts, so you've got a nice selection for everyone.
Decorate on a budget.
I don't know about you, but my kids absolutely love art projects. The messier, the better.
With that in mind, you can definitely decorate your home with your kids' help by making 4th of July decorations together.
This can be as simple as grabbing some red, white, and blue tempera paint and letting them paint on paper, cardboard from leftover shipping boxes, or whatever else you feel inspired to do.
If you want something a little "fancier", you can try one of these15 simple DIY 4th of July decoration ideas.
If they're not digging the idea of an art project (or you're not, no sweat!) head to your nearest dollar store for fun and cheap decoration ideas.
Enjoy the outdoors.
Whether you find a good local hiking trail or pack up and have a picnic at a local park, you can do something special outdoors to celebrate the 4th of July.
Heck, you could take the time to go fishing if you have the equipment and catch your dinner for Independence Day!
Enjoy fireworks for free or cheap.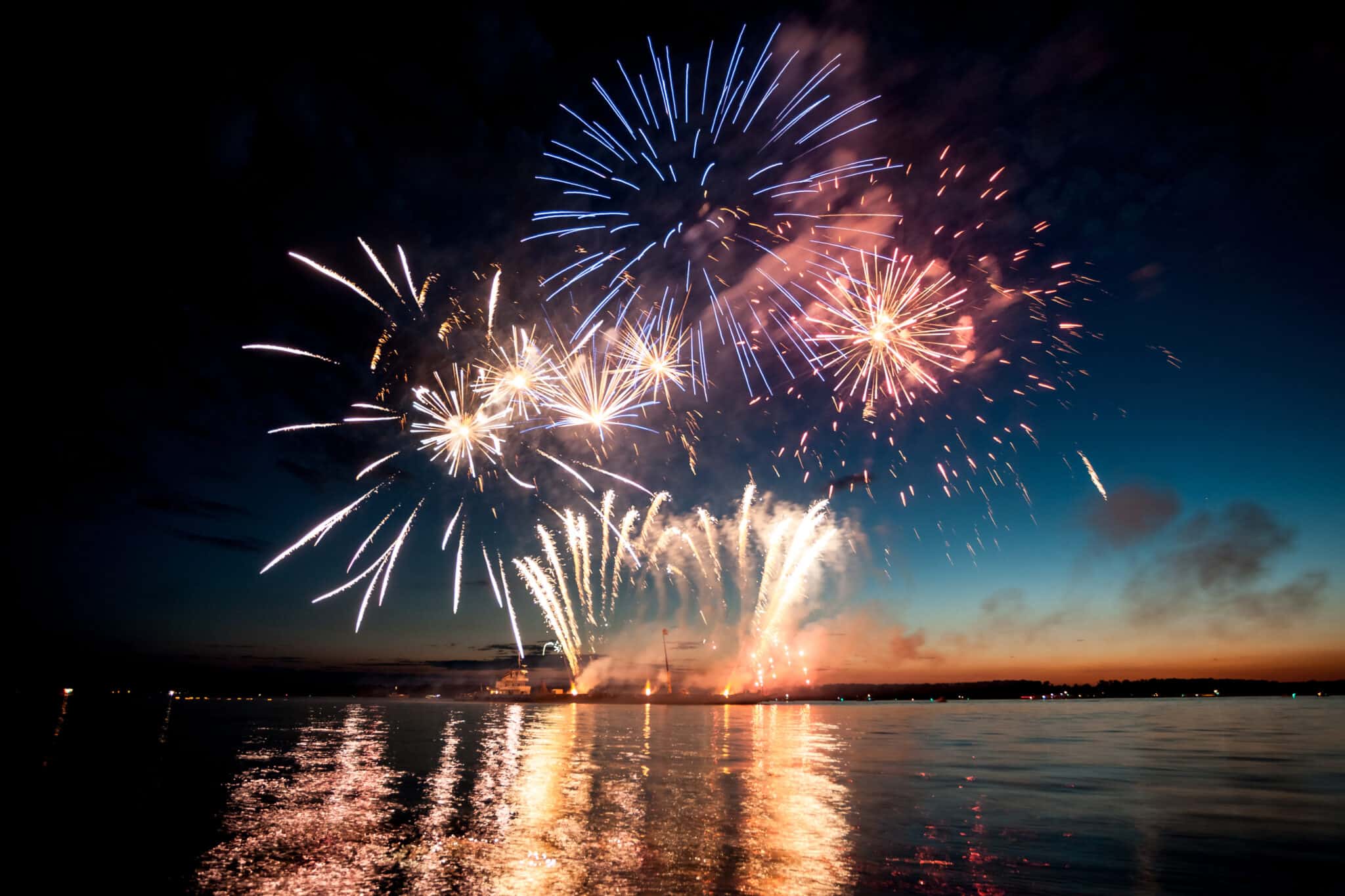 Is your Independence Day just not the same without fireworks?
Look for free fireworks shows in your area. It might be busy, but if you prepare with a wagon, snacks, and plenty of water, you can park and then hoof it for a while to find a good spot.
Hate crowds? Find a good park nearby to watch fireworks, or even see if you can see them from your house.
Being on a budget doesn't have to mean going without fireworks!
Do a service project.
You may choose to combine this with the previous idea, or any others, of course.
Independence Day represents a great opportunity to recognize those who have fought for our freedoms and those who continue to do so.
There are a number of service projects you can try, depending on what works for your family.
Some ideas:
Remember that even when you're on a budget, you can still have a memorable Independence Day! Trust me, some of these creative and unique ideas will be all the more memorable and enjoyable for your kids.
We're Navy Federal members, on the 4th of July, head over to Navy Federal's Instagram to see how they're celebrating the day and join in on the fun!
If you're looking for other ways to help manage your budget and make the most of your
finances, visit navyfederal.org. Navy Federal is proud to serve all members of the armed
forces, veterans, and their family members.
Navy Federal is federally insured by NCUA.