This is a sponsored post on staying cyber secure written by me on behalf of Navy Federal Credit Union for IZEA Worldwide. All opinions are 100% mine.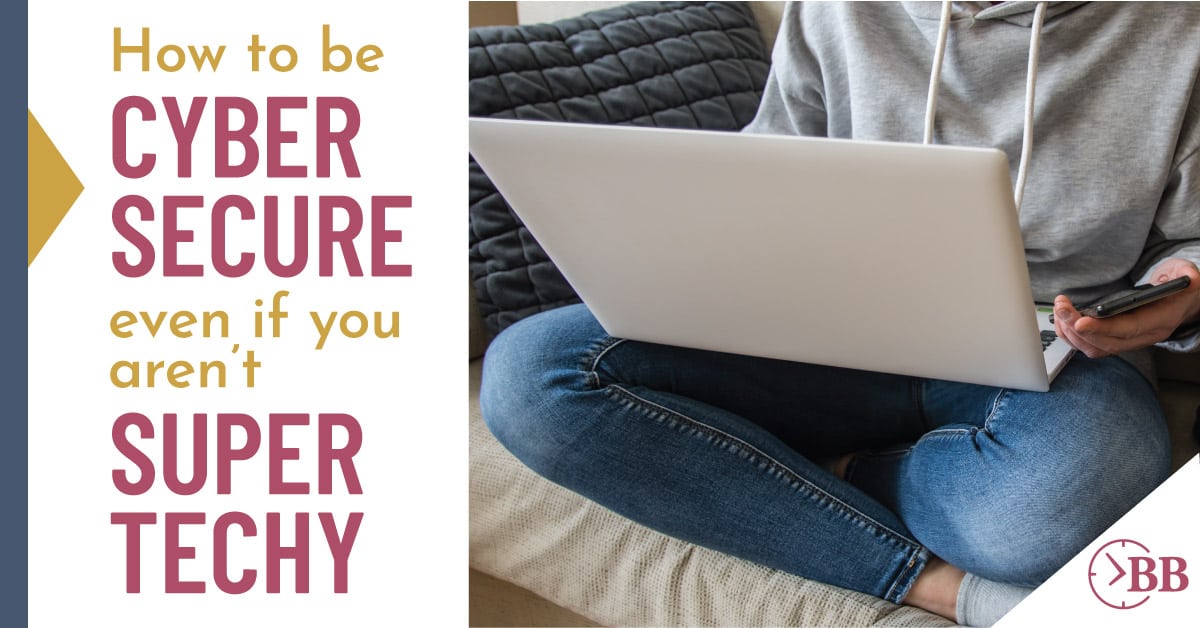 Did you know that October is cyber security awareness month? Staying cyber secure is easier than you think.
If you're anything like me, the idea of that makes your insides squirm, because computers are far from my forte.
The thing is, it's super important to be aware of these issues. Because this is far from being an "out-there possibility that you don't have to worry about". Identity theft and other forms of cyber crime are becoming more and more prevalent.
Which means you have to be vigilant.
Fortunately, being vigilant doesn't mean you have to become a certified IT professional in the next month to prevent being a victim.
Thank goodness, right?
In fact, I can help you become more cyber secure in the next hour, even if you're terrible with computers.
No joke.
How To Be Cyber Secure In An Hour (Even If You Aren't Techy)
1. Use a VPN.
You might be thinking, "Nope, I'm already out of my element." Cyber secure in an hour? Stay with me here.
A VPN is a virtual private network. Basically, it hides your private information like IP address and your network data so people can't hack in and see what you're doing.
This is especially important if you use WiFi while you're out and about. Being connected to the same WiFi network as a bunch of strangers opens you up to a lot more cyber crime than you can imagine.
VPNs can be used on your smart phone and laptop, so whatever you're using to access the internet, you'll know you're protected.
I personally use Avast.
2. Use a password keeper.
You'll need better.
Of course, having a secure password can be a pain in the butt. When you use the recommended combination of upper and lowercase letters, numbers, symbols, and the hair of a unicorn, it can be hard to remember which you used where.
That's especially true if you follow the experts' recommendation of having different passwords for each site you visit.
That's where a password keeper comes in. It keeps track of all your passwords and where you use them, so you can sign into everything with one click.
It seems high tech and I'm sure it is, but from a user perspective, it actually makes things a lot easier, with the added bonus of increased security for all your accounts!
I personally like 1Password. It's easy to use and super secure, and is free to try for 30 days!
3. Check your privacy settings on social media.
Your social media profile is a wealth of personal information.
Think about it: How many people can find out where you were born (and thus likely the hospital you were born in), where you went to high school (and thus your high school mascot), your mother's maiden name, maybe even the names of your first best friend and your first pet?
Now, maybe you're already totally aware of this, great! But if not, maybe you've just had a small panic attack.
Don't sweat it. This is easy to change.
First of all, make sure when you share posts, you're setting them to "viewable by friends only". It doesn't make it 100% unfindable, but it sure adds a layer of security.
Second, make sure your location services are turned off. It might be fun to check in to every place you go, but not so fun when potential thieves know where you'll be at a given time.
Speaking of which, if you go on vacation, it's a good idea not to share anything about it on social media until afterward. Why let people know your house will be unattended for a length of time?
Lastly, keep in mind how much information you're sharing. When you share your full legal name and maiden name and every detail about yourself, it can be ripe for the picking for cyber criminals.
This doesn't mean you have to ban social media altogether, just be a little more mindful of how you connect 🙂
4. Monitor Your Credit Score
There are lots of good reasons to know where you stand with your credit. The major one here though is that it helps you make sure your information is staying safe.
If your credit score suddenly takes an unexpected dip or your report shows you've applied for a credit card but you haven't, there's a good possibility your information has been used without your permission.
Yikes.
It's good to know, however, that you can do things to repair that damage or remove fraudulent accounts, but the earlier you know about the breach, the better.
I like using Credit Karma, which can give you not only a nice overview of where your credit and debts stand, but can also be set up to automatically send you alerts.
That means if someone tries to use your credit to apply for a credit card or loan, you know very soon after it happens, which empowers you to do something about it!
If you have a Navy Federal Credit Card, you can view your FICO score for free anytime in your Navy Federal account, with no impact to your score.
5. Use Anti Virus Software
Antivirus software helps ensure that there are no programs on your computer you haven't approved.
This is important because hackers can way too easily add programs that damage your computer, steal your files or information, or even lock your information then demand a "ransom" to restore it.
It's a scary world out there.
Fortunately, there are a lot of great free and paid antivirus options.
One I use is Avast. It can be used for Mac or Windows, and the basic version is completely free, and actually includes their own password keeper, if you'd prefer to use theirs over 1Password.
Even if you choose to upgrade to a paid version of their antivirus, it's extremely reasonably priced (tops out at $99/year), so this is a great budget-friendly option to look into.
This month, Navy Federal Credit Union just wants you to know that you don't have to be a victim of a cyber attack. Even if you feel totally overwhelmed by technology, you can use these simple tips to keep yourself, your credit, and your family protected and cyber secure.