I'm an advocate of cooking at home, I really am. I cook almost all of my meals at home and enjoy doing it. But I'm also an advocate of spending less and knowing my weaknesses. Every once in a while, I find myself in a sticky situation and I'm in danger of doing the worst thing you can do when it comes to your grocery budget… buy food for the house and then eat out every night, letting your food go bad. Our grocery budget is $120 per week and in these situations, I have a few back up plans that allows us to eat out for a week, spending less than what we spend to eat at home. Don't just stick to my tricks though, you may live in an area with even better options! It's a really good idea to find the cheap restaurants in your area, and even more important figure out what to order to get the most food for the smallest price.

Situations Where You May Need To Eat Out Frequently:

A new baby

A loss in the family

Having multiple members of the family sick

Being sick yourself or recovering from an operation.

Moving

General insanity

There are absolutely alternatives in these situations to eating out. Freezer cooking is one of them, but keep this idea in the back of your head if you ever need it. Sometimes, we get so set in our head about what's "right" that we don't think of less popular alternatives. The situations listed above are when you are at your absolute worst. Those are my "Screw the budget, I don't care, I'm ordering $80 worth of Dominos and eating in bed" moments. Yup, I still have them. Likely you will too. The first thing to go in those situations is your routines. You start skipping the dishes after dinner, not switching the laundry, not thawing tomorrow night's dinner. The concept of eating out is my dinner version of the red panic button. Only to be pressed as a worst case, "'I've tried everything else" scenario. But we aren't recklessly spending here. We're recognizing our state of mind, our weaknesses and planning to handle ourselves at our worst. Think about this now, when you aren't dealing with anything on this list. So when something like that happens, you have your panic button ready to go. The worst case scenario is if we say "No way, It's cheaper to eat at home, I'm not eating out every day", then ordering Pizza and Chinese every night in your weakest moments. We're thinking ahead and saying, okay if this happens then this is what I'll do. This "panic button" saves you on time, dishes, kitchen clean up and grocery shopping.

Obviously, you're not going to eat the exact same thing for 7 lunches and 7 dinners in a row. That's not the idea here. It's to show you what a week of meals at these places cost and then you can mix and match to suite your needs. Most of these meals are priced similarly.

In some cases, these aren't the healthiest meals. This isn't a suggestion for how to live every day, but for how to minimize the financial impact of these events and get you through a chaotic period. Despite being cheap, you'll notice that traditional fast food isn't on the list. Even by buying a burger, fry and drink from the dollar menu, I find the prices, quantity and quality of the food choices below to be a better value.

My Top 4 Favorite Cheap Restaurants

Olive Garden

Olive Garden has a "Buy One, Take One" deal where you can eat dinner there, and they'll wrap up a second portion to take home for tomorrow's dinner. You can choose from 4 entrees and you'll get unlimited soup, salad and bread sticks when you eat out, plus a second chilled entrée (which can be different from your original selection) off of the same menu for tomorrow night. If you pair this with milk and cereal for breakfast, and have leftovers (those meals are huge!) for lunch, (filling in with peanut butter and jelly sandwiches and yogurt if you run out of leftovers), this makes for a pretty cheap week.

Cost for 2 adults for a week:

7 Buy One, Take One Deals: $90.93

Peanut Butter: $2.49

Bread: $3.49

Jam: $3.29

Yogurt: $4.99

Bananas: $4

Milk: $2.82

Cereal: $1.99

Total: $ 114 for two people in one week (you can likely feed a toddler or two in this for the same price).

Wegmans

Wegmans has a fantastic thing called Meals "Ready to Eat": It's a complete meal made for you at their deli with a ton of choices. I've had their French buttered chicken, fried chicken, meatloaf, lemon grilled chicken, chicken parmesan and more with sides like steamed broccoli, apple squash cakes, macaroni and cheese, butternut squash and more for about $6 per meal (a few options cost more, but you can get an amazing complete meal here for $6). They come in microwavable containers and they can be refrigerated at home and eaten within two days (according to Darryl, our local Wegmans deli guy who is worth his weight in gold). We used this option for the insanity that followed our last baby when I came down with an infection and was bed ridden (even more so) for a few days. You can pick up 4 meals at a time, and eat them for dinner for two days. You can pick up a container of lunch meat or peanut butter and jelly and bread for sandwiches with baby carrots and chips at Lunch, and milk and cereal for breakfast.

Cost for 2 adults for a week:

Ready to Eat Meals: $84

Peanut Butter: $2.49

Bread: $3.49

Jam: $3.29

Yogurt: $4.99

Bananas: $4

Milk: $2.82

Cereal: $1.99

Total: $ 107.07 for two people in one week (you can likely feed a toddler in this for the same price).

Subway

The key to subway is to just go for the sandwich and skip the drink and chips. Get a foot long sub, so you can eat the second half for lunch the next day. Drink water at home and pair it with anything found in your house: yogurt, chips, ice cream, raisins and peanuts, or anything you can find.

Cost per person for breakfast and Lunch per day: $5.57 assuming you eat milk and cereal for breakfast that week, the cost for 2 people in a week to eat subway with a cereal breakfast is:

14 foot long subs with extra veggies: $77.98

One 12 pack of yogurt: $4.99

1 large bag of chips: $1.99

1 box of cereal: $1.99

I gallon of milk: $2.82

Total Cost: $89.77 for 2 people in one week.

Hint: You can order online and just walk in and pick it up with no wait.

Chipotle

You can get a Chicken Burrito Bowl for $6.80, then ask for extra veggies and cheese to make it a good sized bowl. Eat half for dinner and save the rest for lunch the next day (If you're squeamish like me, have them pack the sour cream and lettuce separately so it heats well the next day). Add cereal, bananas and milk for breakfast.

14 Burrito Bowls with extra veggies and cheese: $95.20

Bananas: $4

Milk: $2.82

Cereal: $1.99

$104.01 for 2 people in one week.

Hint: You can order online and just walk in and pick it up with no wait.

Just need a quick meal out at a cheap restaurant? Try these ideas…

Little Caesars

Try out their $5 Hot N Ready Large Pizzas. You have to stop in to pick them up, but you don't need to call ahead, and you don't have to wait for them to be made. Perfect to take to a soccer game and eat in the stands rather than taking everyone to the drive thru. Just load up on fruit and veggies after the game.

Wegmans

Try their ENOURMOUS Pizzas for about $11. These pizzas are so big that they don't fit in the grocery cart, you have to balance it on top. We can usually get 3 meals out of one pizza. When we do order pizza (which is extremely rare because I married a man that makes pizza from scratch better than a NYC food truck), this is where we head to. Perfect for company coming over on a busy day (we pair this with a $4 bag of salad and use our stock up of salad dressings that we got on sale for $1.). Even with company, you'll likely have enough left over for lunch the next day.

Olive Garden

Soup, Salad and Breadsticks Lunch for $6.99. If you're not a soup person, give it a try anyway. I was so impressed with their chicken gnocchi soup and I'm definitely not a soup person (except for broccoli and cheese soup, which barely counts. It's like a giant bowl of cheese dip). Perfect for a super frugal date night out.

Ikea

With a $.99 breakfast plate available every day with sausage, scrambled eggs and hash brown potatoes, I'm a HUGE fan of Ikea's food. You can grab 2 Hot Dogs, a bag of potato chips and a soda for $2.50. If you have potty trained children, they also have 30 minutes of childcare available in a really fun space with climbing equipment and ball pits. Send the kids to play, go find a comfy couch to test out while you recharge and then have a quick lunch. Perfect for a quick lunch on errands day.

What's your favorite cheap restaurant?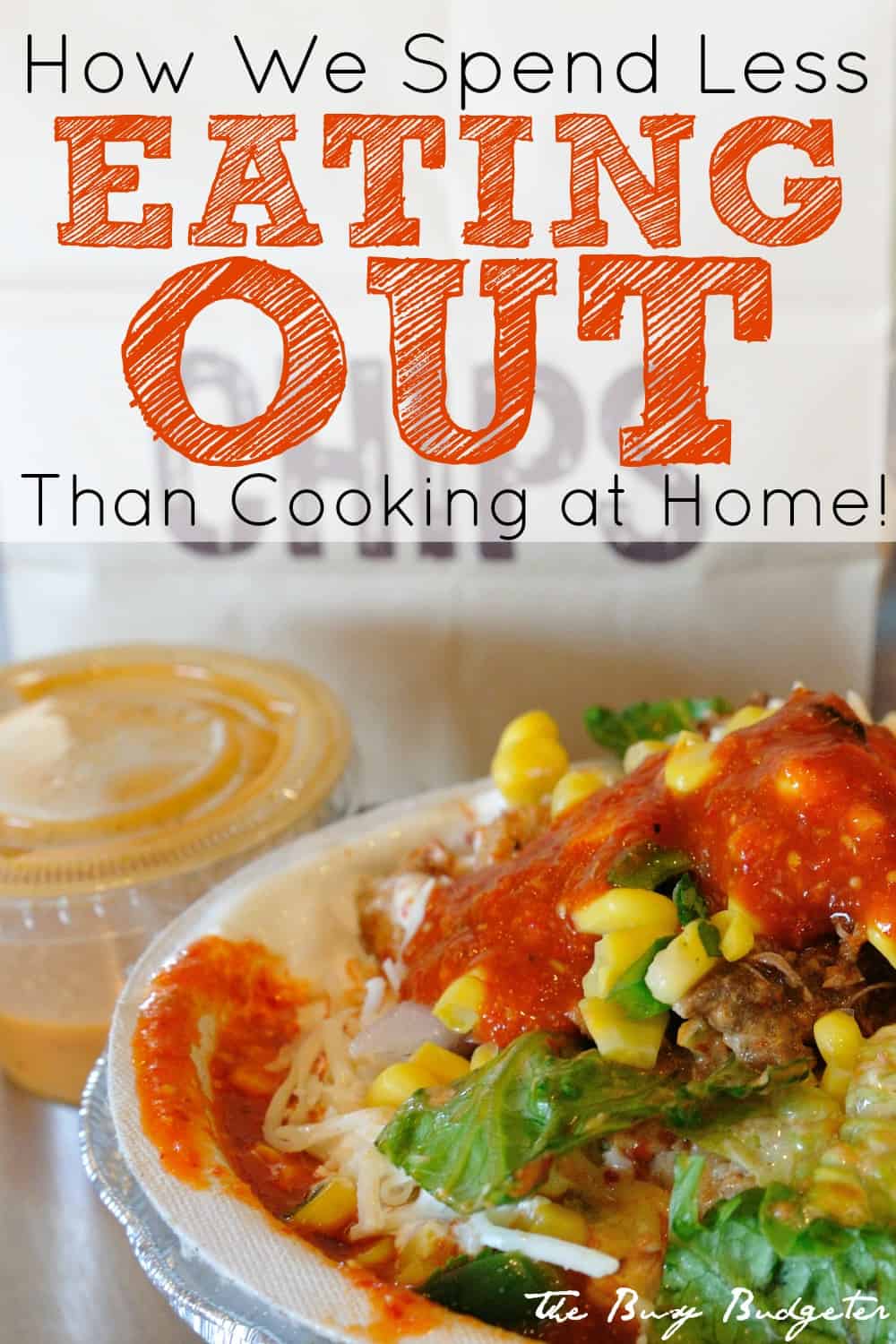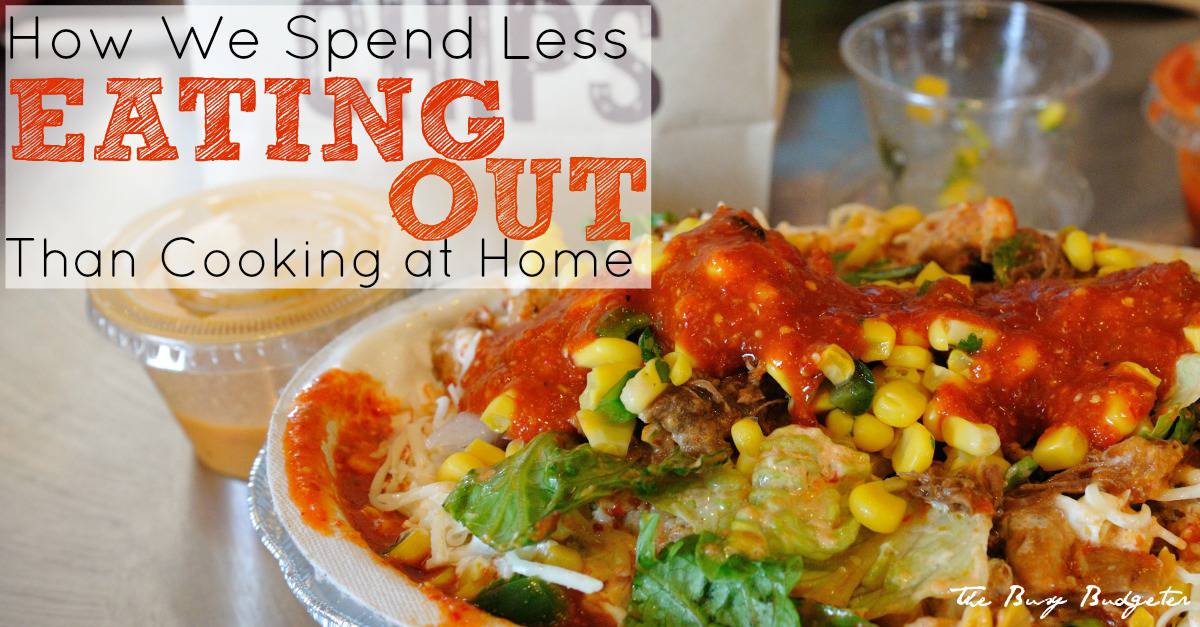 This post may contain affiliate links. If you click & make a purchase, I receive a small commission that helps keep the Busy Budgeter up and running. Read my full disclosure policy here.