Even the busiest budgeters among us (*ahem*) need a little hand from technology now and again…but searching through the TONS of online budgeting tools out there can be a HUGE challenge.
I've got you covered. You CAN take charge of your budget! I've pulled together the best online budgeting tools available. The good news is, many of these tools are low cost, free, or offer a free trial so you can check them out and find a budgeting tool that works best for YOU.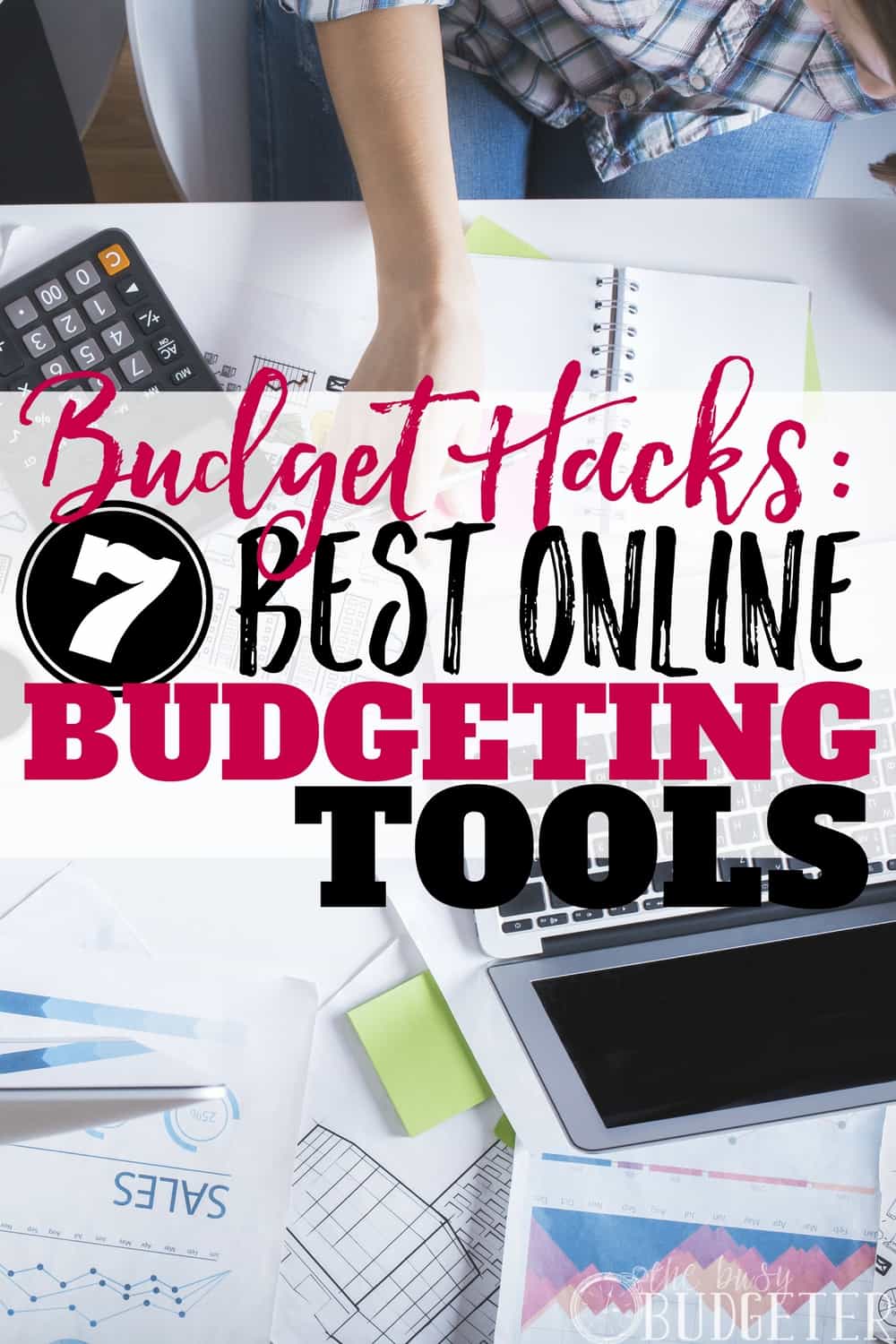 If you're a budget newbie, before you begin I recommend sketching out a basic budget. (Who wants to waste time entering in a bunch of information, only to find the tool you've picked isn't the best one for you—and now you have to somehow extract all that info…? Frustrating!)
Instead, gather your bills and pull up your bank account online. To start, I want you to sketch out your budget on paper first. (Pick your fave printable budget template.) If you're totally brand-spankin'-new to budgeting, you can download this FREE 90 Day Budget Boot Camp, which will help you kick your budget into shape.
Record your monthly income and list all of your expenses for the month. Don't forget to figure in your food and grocery costs. Take this opportunity to evaluate which areas you can shave off or trim down to hit your budget goals.
Even if you feel like you're "terrible at budgeting," don't stress! Anyone can become a pro-budgeter, it just takes practice.
Done? Time to find an awesome online tool to help you really rock your budget! These best online budgeting tools will give you a leg up on your finances, help you make progress, allow you to simplify, and just generally help you WIN at budgeting.
From budgeting guru Dave Ramsey, EveryDollar is available as a smartphone or desktop/laptop app. This budgeting tool is a serious powerhouse—but it's totally easy to use (and of course, it's FREE).
You can use EveryDollar to create budgets, track expenses, and manage money on-the-go. With the app, you can create unlimited budgets and track transactions and expenses against your budgets.
The premium version includes extra features like the ability to connect with your bank as well as more extensive tech support and budget coaching. What's great about this app is you can sync your smartphone with your computer, so your budget is always up-to-date and available to you, no matter what device you're using.
You Need a Budget (YNAB) is less of a tool and more of a lifestyle change. It's SO MUCH MORE than just a way to track your spending and improve your finances.
With YNAB, you "give every dollar a job"—one of The 4 YNAB Rules. If you follow the rules, make use of brilliant features like prioritizing expense categories, and commit to the changes you need to make, you'll be successfully pulling yourself out of debt and away from the edge of financial disaster.
You can try YNAB free for 34 days. After the trial period, this budgeting tool costs $5 per month or $50 for one year.
If you're a fan of the "cash envelope" budgeting system (placing a set amount of physical cash into physical envelopes by budget category), this tool could be perfect for you. In fact, one of the main complaints people have about cash envelopes is that it's a little scary to carry around all that cash! It's effective, but there's also no recourse if your cash is lost or stolen. (Eek.)
Mvelopes is a digital take on the classic cash envelope system—and it's quite effective. It's perfect for the budgeter who's ready to go digital or who prefers a digital option while still using an envelope-type system.
There are three tiers of service available. The free account offers access to all the basic tools including account integration, cash flow reports, and multi-device access. The premium version essentially gives you unlimited access to all the basic features, so you get unlimited budgets and accounts, as well as more in-depth debt relief plans. The third tier is a personal budget-coaching level which features regular one-on-one check-ins and personal motivators.
Want to stick to your budget? A calendar is your secret weapon! Some of us planner-addicts and calendar-lovers live by the power of an awesome calendar—they can be a great planning tool, and yes, a great budget tool as well.
CalendarBudget is an inexpensive budget planner that works similarly to Google Calendar. You can schedule out your expenses, paydays, bill due dates, and other events, plus keep track of money in, money out, and whether you're on track with your budget. You can customize and categorize events and due dates in any way that works for you.
CalendarBudget is especially great for people who appreciate the visual aspect of a calendar. For some people, seeing money laid out on a schedule can really help plan a better budget.
This is a super easy, super comprehensive way to track your spending and set up a budget. It really helps you see WHERE your money goes each month and get a handle on how you're spending.
After linking just one account, Mint can tell you where you spend most of your money. This feature can be incredibly eye-opening and a great starting point for tracking spending.
Mint's free online budget planner offers a whole range of features. You can do everything from track your credit score to set up automatic bill pay to track basic investments.
For the (free) price tag, Mint is an incredibly effective tool, great for getting an overall snapshot of where your spending stands and what you need to do to begin fixing your finances and budgeting.
If you're a more experienced budgeter and you have a few investments to track, Personal Capital can help you take your budget to the next level. This online tool is geared toward those who need a more robust investment-tracking tool.
While there are plenty of other great tools for basic budgeting, Personal Capitol is one of the best online budgeting tools for those with investments and multiple higher-level accounts.
Personal Capital is free to sign up for and offers a ton of features catered to tracking your personal wealth and planning for the future.
If you're more of a pen-and-paper-budget person (or you've run through this list only to find yourself totally overwhelmed)—it's okay! There are a ton of free budgeting templates available online that you can download and start using right NOW.
I've compiled a list of my favorite free budgeting printables from Pinterest—they're all useful and super creative, so you'll have fun choosing your style. There are budget printables for ALL different kinds of budgeting from just managing the bills to entire household planners, meal and grocery shopping budgeting worksheets, paying off debt sheets, and more.
If you've "hacked" your own planner or if you prefer to stock your budget binder with the best mix of printable budget tools you can find online, this option is great. These free online budgeting templates are ready-to-print, making life simple because it's all on paper.
Whatever your budgeting needs, there's certainly an option that will work best for you. Give these a try to see what works best for your personal budget style.
The most important thing about using a budgeting tool is actually USING it. So pick something you're comfortable with, try it, and if it doesn't work? Try another. However, be sure you're not just making excuses not to budget!
And PLEASE, don't try to take on EVERY one of these best online budgeting tools at once! You'll get overwhelmed and frustrated—FAST—and you'll end up scrapping the whole thing. Pick one, commit to using it, and try it for a month or two to see how it feels. You'll be a budget pro in no time!
Is your favorite budget-conquering tool on my list of best online budgeting tools? Let me know which apps and tools YOU love that really help you keep your budget on track!