31 DAY CHALLENGES
An Easy Way to Jump Start The Life You've Always Wanted.
Unless you're new to Pinterest and the blogging world, then you've seen 31 days challenges before. They email you a specific task per day that you have to complete by the end of the day. At the end of the month, your life in that area will be transformed from the small baby steps you took all month. You can find these in almost every category of life. They create a huge impact over a month with very little time dedicated to it.
When Caroline from Crumbling Cookies (check her and her famous chocolate chip cookies out here!), asked if I wanted to do the Living Well, Spending Less: Clutter Free Forever Challenge with her, I jumped at the chance! I considered us to be pretty good at keeping clutter at bay (I'm famous for throwing out all of our stuff), but I could think of a few areas that were overwhelming for me and could always use extra motivation. We're on Day 13 of 31 of the challenge and I'm so in love with it! It's easy to stay on track, to feel accomplished and it's so much fun to have someone to share photos and accomplishments with. We even got our spouses involved by sharing the emails with them and having them help us out.
3 Steps to ROCK a 31 day challenge!
1. Find a challenge that you would really benefit from. (See my list at the end of this).
2. Text a friend that you think would love this challenge too. Ask if they want to do it together.
3. Send the friend a "before photo" and an "after photo" of the day's challenge. Let them know of anything crazy that happened. Like if you found something you had been looking for, made money off the challenge or if something you thought would take hours ended up taking 10 minutes.
Here's a quick list of what I've gotten out of this challenge so far:
I made $16 selling a book I no longer wanted on Amazon.
Three areas of my house that have been a nightmare for months are clean and organized. That would be my front entry closet, the kitchen cupboards and my van.
My van wasn't even part of the challenge (thus far), but I was so inspired by how the rest of the house was changing so quickly, I just sucked it up and did it. This was not an easy job. My van probably should have been condemned. The one area of my life that organization has never entered is my cars. Today is a new day though, right?
I found a canning book I had set aside for Caroline that I had looked everywhere for!
I finished two sewing projects that had been sitting for weeks.
I found about $50 worth of freezer bags, Saran wrap and aluminium foil in the very back of the sideboard. I had bought them for the stockroom right before we moved and forgot about them.
By doing the challenge first thing in the am, I ended up feeling motivated and accomplished for the rest of the day. This led to more things on my task list getting done.
You bond with a good friend. I love seeing how Caroline and I have so many similarities. Both in our accomplishments and our struggles. Plus, it's neat to see the solutions she came up with and how I might do something similar. A wise person once said "Surround yourself with people that make you a better person." I couldn't agree with that more.
Ready To Try A Challenge?
This weekly challenge and task list gets you through Halloween, Thanksgiving and Christmas by prepping ahead, and relaxing through the holidays.
---
Challenges that help you reduce the negative impacts in your life and increase the positive (Candy Crush addicts beware!)
---
31 Days of Living Well and Spending Zero
Challenges that help you through a no spend month (you can still spend on essentials). No spend months are a great way to save a lot of money quickly and to jump start a new budget.
---
31 Days to Drastically Reduce Your Expenses
Reducing your expenses and build your savings in this series.
---
31 Days to a Wardrobe You'll Actually Love
Tasks to help you build an amazing wardrobe.
---
31 Days to Build Your Creative Business.
Blogger? Etsy Shop? This one is for you!
---
My love of freezer cooking knows no bounds. This is a must do!
---
31 Days of Learning With Little Ones
One activity a day that you can do with your preschooler.
---
31 days of kindness/appreciation challenges help you experience the holidays the right way.
---
A challenge to help you find quiet and peace in life.
---
31 Days to Clutter Free Forever!
This is the challenge we're doing now. The changes have been amazing!
Like this post? Click on an advertisers link! They pay me so you don't have to!
A few photos of my Before/After Challenges: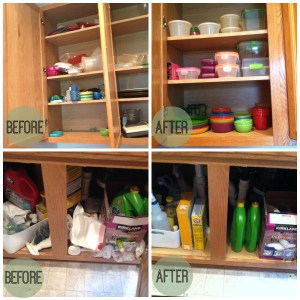 Update: It's been three months since I posted this and the clutter free challenge was a huge success! My cabinets still look like this. 🙂
This post may contain affiliate links. If you click & make a purchase, I receive a small commission that helps keep the Busy Budgeter up and running. Read my full disclosure policy here.