Need a quick DIY project to update a room? This is my favorite! I really wanted to update my office chair. The black roller chair I bought a Walmart a millennium ago was driving me nuts. We had just redone our dining chairs with vinyl to protect the fabric seats against the little ones (read that post here), and I was using one of the dining chairs instead of the old roller chair to work at my desk.
I figured this was an easy decision since we have 6 dining chairs, 2 folding back up chairs and the desk is right next to the dining table. I'll just steal a chair for my desk, redecorate it and we can grab it for the dining area when needed. The chairs we have are the Ikea Borje dining chairs, they sell for $49 but we got these for $10 per chair on craigslist. We just needed some fabric. Joanne's Fabrics almost always has a 50% off coupon available in your email. Sign up for their mailing list now through this link, then when you're there just pull up the coupon on your smart phone and they can scan it from there.
I was brave and sent Mr. Busy Budgeter to Joannes for fabric after sending him a few samples of fabric that I liked. He did great and brought me back a yard of this gorgeous material for $9.99. One yard of material will cover 4 chairs, so the price per chair is $2.50.
The vinyl (we use medium weight), was on sale for $5.99/yard. The price per chair is $1.50 for the vinyl covering (Which I highly recommend if you have kids in the house!)
The total cost of this project per chair is $4.00 and it took about 15 minutes of easy work per chair to complete. I'm completely in love with the results.
Items Needed:
Screwdriver
Scissors
Fabric (depending on your chair- ours were 1 yard for 4 chairs)
Vinyl (same as fabric, you can skip this step if you don't have mess makers in the house)
Staple Gun
1. Flip chair over and unscrew chair seat from the chair frame.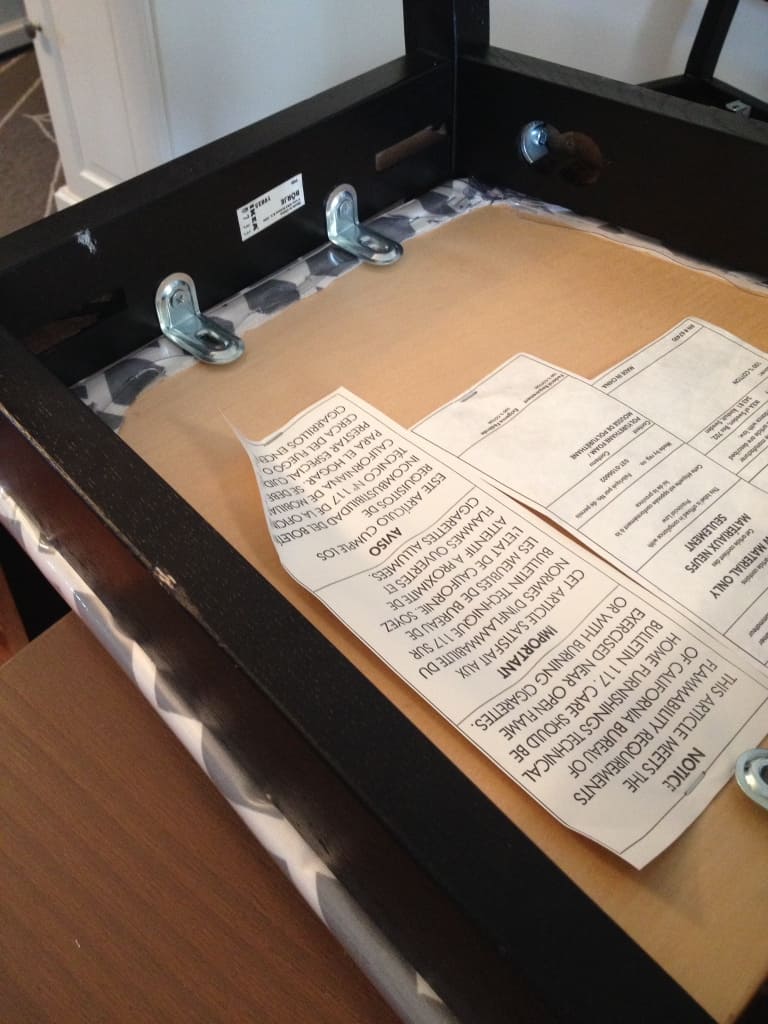 2. Remove fabric cover. I suggest saving these. They would be fun to dye, embroider or try something new on later. If it's messy, just stick it through a wash cycle.
3. Lay fabric on the (clean) table, patterned side down. Position the chair seat upside down on the fabric, leaving about 1.5 inches of fabric from the corners (Mr. Busy Budgeter left way more than that but I was smart enough not to critique free labor).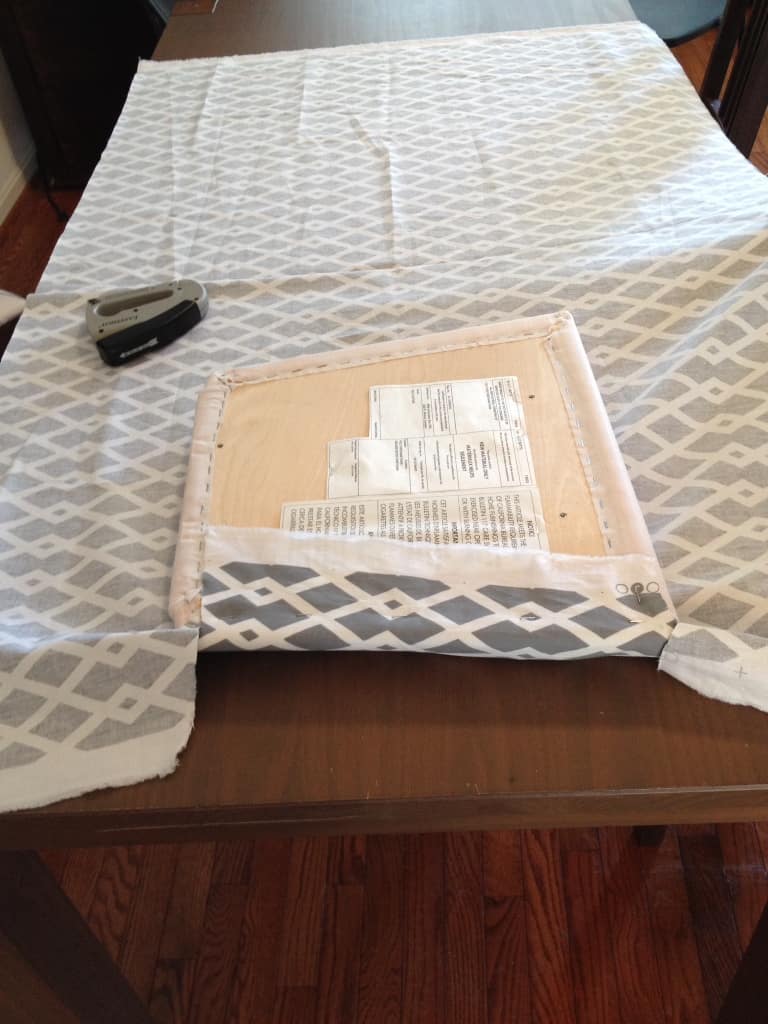 4. Using the scissors cut out the fabric so it over laps the seat by about an inch and a half.
5. Fold fabric over the seat tightly and staple to the wooden seat back. On the corners, fold one edge tightly, then the other, placing a staple directly on the corner. This will give you a nice clean corner.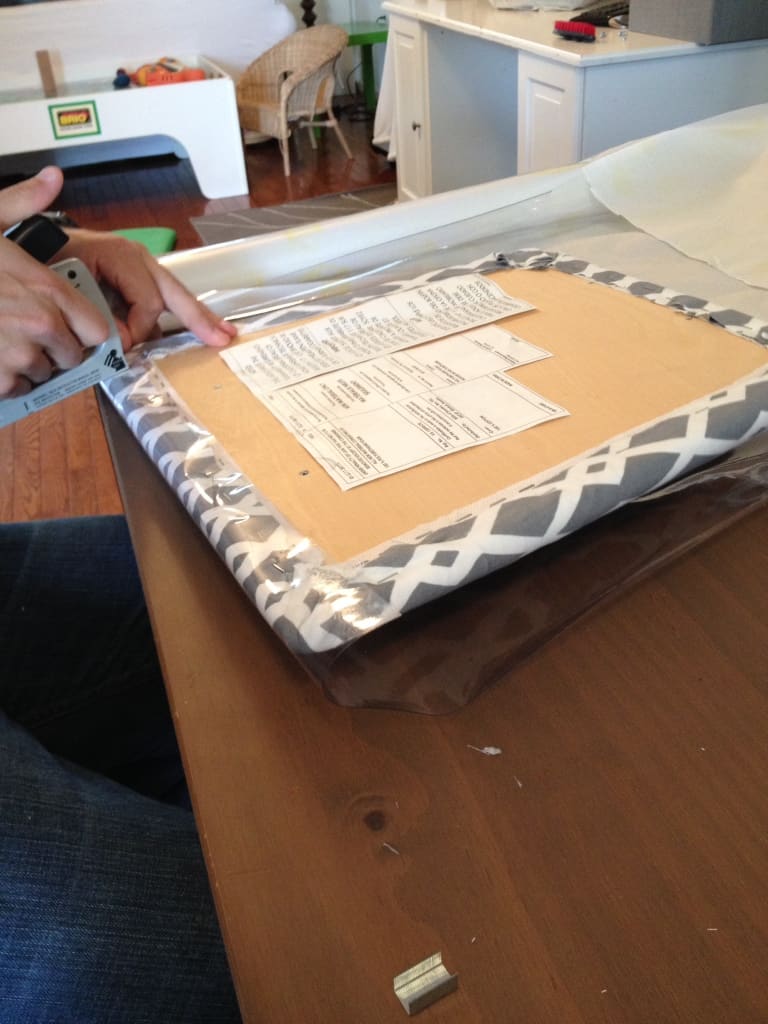 6. If using vinyl, repeat steps 3. and 4. using the vinyl.

This post may contain affiliate links. If you click & make a purchase, I receive a small commission that helps keep the Busy Budgeter up and running. Read my full disclosure policy here.