This post is sponsored by Amwell and may contain affiliate links, however, the opinions are 100% mine and my opinion is that Amwell offers a fantastic service to save time and money!

When we first set up our budget, medical expenses were one of the things we had the most trouble with. We found it hard to plan for medical expenses because they're almost always an unplanned emergency. Over the years, we've learned a few tricks on how to maximize savings on medical expenses and are really excited about a company that we found that helps us even more!

Here are the 3 ways that we save on medical costs!

1. Amwell

Amwell is a simple, affordable service that lets you see a physician whenever you want, online, on your tablet, or on your smartphone through video and audio. All of the doctors are local and licensed in your state of residence. Once you're connected to a physician, your doctor can review your history, answer your questions and at their discretion, diagnose, treat, and even prescribe medication. If you receive a prescription, they'll send it straight to your pharmacy. It's called telehealth (or telemedicine) and it's a big deal. I'll explain why in a minute.

One session at Amwell is $49 for 10 minutes with your doctor. Most problems can be handled well within that amount of time. Many insurance companies cover Amwell (mine does!), and more are jumping on board every year. With my insurance, I pay only the $25 co-pay that I always have with doctor visits.

Amwell saves me both time and money. Being self-employed, I have to pay for an assistant to cover my work while I'm gone, so a trip to the doctor costs me $30 for the assistant, $25 for the copay and then the cost of the prescription (if needed). With Amwell, I save $30 right off the bat because I won't need an assistant, plus the time I spend waiting around at the doctor's office. It's a really convenient way to handle simple illnesses. Don't forget that you can pay using your flexible spending account (see #2).
There are tons of reasons that I'm so excited about Amwell besides the savings. You can choose your own physician, (the average physician experience level is 15+ years) and all of the physicians are trained specifically in telehealth. The app has a 5 star rating, and you get connected quickly with an average wait time for a doctor of less than 2 minutes.

Obviously, this isn't meant to replace your doctor's office. There are plenty of problems that you'll need to see someone face to face for. But this is perfect to handle medical concerns like sinus infections, respiratory infections, urinary tract infections, pinkeye or the flu. One of my favorite things about this service is getting to see a doctor on weekends or holidays without having to pay the really high co-pays of urgent care or the ER.

It should also be mentioned that they also have licensed therapists and nutritionists available for the same price. The nutritionist especially is a great deal, because those visits aren't commonly covered by insurance without a condition justifying it, and can typically run $100-$200 per visit. You can find out more about them here.

Want to give it a try? The folks over at Amwell are giving readers of The Busy Budgeter their first visit for free! Just use this promotion code during check out: MOMSLOVEAMWELL

Sign up for your first free visit here.


2. Flexible Spending Account (commonly referred to as a FSA)

This an account that you can set up through your employer as part of your benefits package. You set aside a certain amount of your paycheck without having to pay taxes on that income to pay for medical expenses (like co-pays and deductibles). Setting ours up made our budget so much easier because we didn't have to find money for unexpected medical costs.

There's a catch here though, if you don't use that money within the year, you lose it. Technically, since the Affordable Care Act went into effect, your employer may offer you the option to roll $500 over to the next year or give you an additional 2.5 months to spend your FSA funds, but unless you're sure that your plan includes that, count on losing any money not spent within the year.

For us, the Flexible Spending Account saves us about $82/year and is well worth the limitations of the program. The key is to be able to accurately anticipate your health care needs for the next year. The way we did that, is to determine our health care spending for the last year and to decide if that year had unusual spending. We took about $100 off our last year's spending just to be safe, and got a flexible spending account totaling $250 for the year. If you're pregnant, or know that you'll need surgery or a root canal, talk to your health insurance provider to determine the amount those services will likely cost you and then increase it accordingly.

Once you have a FSA in place, you can take medical expenses off of your budget (assuming you pay for health insurance through your employer), and just keep an emergency fund for anything that would cost more than the flexible spending account would cover. We usually fit emergency prescriptions into our grocery budget.

3. Rx by Mail Program

For recurring prescriptions lasting longer than 90 days, an Rx by mail service can save you a lot. The first step is to check with your health insurance company to see if they offer a specific Rx by mail program (many do), if they don't then check through reputable Rx by mail companies open to the public (you can see Walmart's Rx by mail program here).

Think of an Rx by mail program as buying your prescriptions in bulk for a discount. You have the added benefit of having the prescription mailed straight to your door, and in most cases having the prescription refilled without you having to remember to order more.

We went from spending $30/month on our recurring prescription, to $10 a month (or $30 for a 90 day supply). This saved us about $240 per year plus the hassle of running errands to pick up a refill. If you live in a house with multiple recurring prescriptions, this could add up to a huge savings every year.

---
Those are the ways that we tackled budgeting for medical expenses and even saved money in the process. Ultimately, I'm convinced that the best way to save on medical expenses is through prevention. Take care of yourself now, get plenty of sleep, eat nutritiously and actively look for ways to reduce your stress. An ounce of prevention being worth a pound of cure and all that jazz.

Did you learn anything new from this? How do you save on medical costs?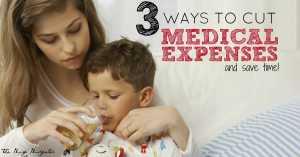 This post may contain affiliate links. If you click & make a purchase, I receive a small commission that helps keep the Busy Budgeter up and running. Read my full disclosure policy here.