The cost of kids clothing is out of control… $20 for a pair of toddler jeans? Seriously? I don't pay $20 for my own jeans!
There's a better way. With a bit of ingenuity and gumption, you can actually cross off kids clothes from your budget completely. There are tons of ways to get free kids clothes!
The 3 ways we get free kids clothes

Trading Up with ThredUP
ThredUP is a an online thrift store that specializes in very high quality clothing at a huge discount. It's also my favorite way to get free kids clothes (or my clothes!). The prices are slightly higher than your neighborhood thrift store, but well worth the ability to browse in your underwear (not that you would… but you could).
You can sort by sizes, categories or style. The site is extremely user friendly, they have free shipping if you spend over $70 , free returns, and they have women's, kid's, plus size, maternity clothing, shoes, handbags and accessories. If you don't qualify for free shipping, then shipping is a very reasonable $5.99 flat rate. They even carry designer brands.
So how does ThredUP score you free clothes? Two ways. First, you can sell them your old clothes (they're extremely picky so only send current styles in excellent condition), and use that money to buy new clothes. I love selling to ThredUP because they send me a giant bag with a prepaid return label on it, I fill it up then schedule USPS to pick it up from our house and leave it on the porch. Easy!
Second, you can take advantage of when they have referral incentives. They're currently offering a $20 credit to you and a $20 credit to anyone you refer, who signs up and makes a purchase. This is hugely beneficial to both of you!
If you refer your friends, they can select $20 worth of clothing, (I snatched up a sweater, a top and a dress for $20 the other day) and just pay the $5.99 shipping and handling. Then you get $20 for referring them. You can start now with your own $20 by using my referral link to ThredUP here. Share the code on Facebook as well to increase your referrals.
That should give you a nice chunk of change to shop for your kids wardrobes, just don't get sidetracked by the Coach bags! When you shop with your referral credit, just buy in batches over $70 and you won't even have to pay shipping. It's a completely free kids wardrobe.
Click here to get $20 to spend at ThredUP!
Important note: You can get more for your money selling your kids clothes on Ebay in "lots" of alike items. (See #3). Selling them to ThredUP is much less hassle, but you'll see a difference in the amount you make. I like supporting ThredUp since I use it so frequently, but if you need extra money and you have the extra time, sell on eBay, then buy on ThredUP combining it with your referral credit.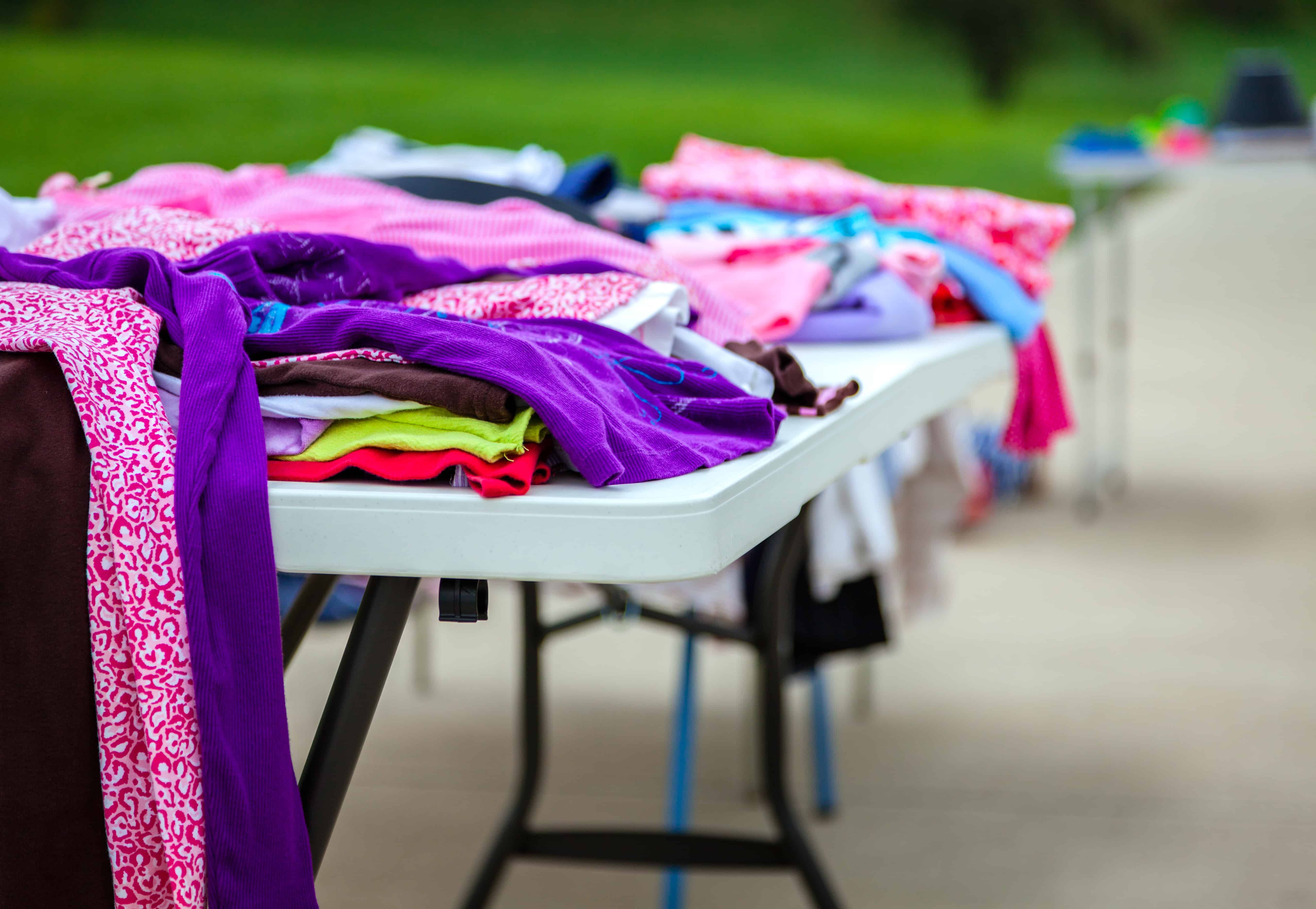 Set Up a Community Clothing Swap Co-Op
Clothing swaps take a little more work but are a great way to get free kids clothes! You can make this as simple or as complicated as you like.
Grab a bunch of friends that have kids in the right ages and meet up at a friend's house. Have everyone's wardrobe's in taped boxes labeled with size. (i.e. Boys 4T) Meet up, let the kids play for a half an hour while moms sort through and grab clothes. The motto of the day is "Bring what you have, take what you love". Whatever is left over, you can donate at the end of the day.
Some things to consider:
The more people that go to this, the more beneficial it is to the group. That way, a mom who needs girls size 2T doesn't show up with 30 items and she can't find anything in size 2T. I would say a minimum of 10 friends.
If you have the time and energy to go large scale, I think it's worth it. See if you can use a church meeting room and put out the word in community groups and moms groups. Have volunteers collect clothes and lay them out, giving moms an index card with the number of items they donated and the number of items they can take.
Buy/Sell in Lots on eBay
This takes a little extra time, but the work isn't difficult. You'll have to sell clothes first then use that money to get the next size of kids clothes free. But it works, and I've done it quite a bit.
Sort the kid's current clothes into lots of similar size/season, for example: Boys, Winter, 4T. Photograph everything, (not individual pieces, just thorough group photos.) upload the photos and list the lots on Ebay for sale. (I use a 7 day sale ending at 9pm on a Sunday). Once they sell and you receive the payment, ship the boxes out and use the money you made to buy other lots of clothes from Ebay in the sizes you need.
Those are the ways that we get kids clothing for free. It takes a bit of thinking ahead, but the results are worth it. Because, seriously… Who has $20 that they want to spend on toddler jeans?
What are your biggest frustrations with kids clothes?
This post may contain affiliate links, which means I may be compensated for referring you to a site or service. I only ever refer to things that I love and/or use myself. Affiliate links help me pay to keep the site running. Thanks for your support!
This post may contain affiliate links. If you click & make a purchase, I receive a small commission that helps keep the Busy Budgeter up and running. Read my full disclosure policy here.disclosure policy here.