An easy and unique pasta salad, this BLT pasta salad is made with plenty of bacon, lettuce, and tomatoes and covered with a mayo based dressing.
Update: 4/5/20 I know how stressful it is right now to be cooking 2-3 times a day while you're also trying to work, "home school", referee kids, and get your house under control. We created an epic inspiration binder of the easiest cheap meals. These ideas are field-tested by hundreds of thousands of our readers and are guaranteed to help even the most overwhelmed mom stick to a meal plan.
And we're giving it to you 100% free right now so you can use it to help you get through this time. And bonus: You'll end up using it long after the pandemic is over.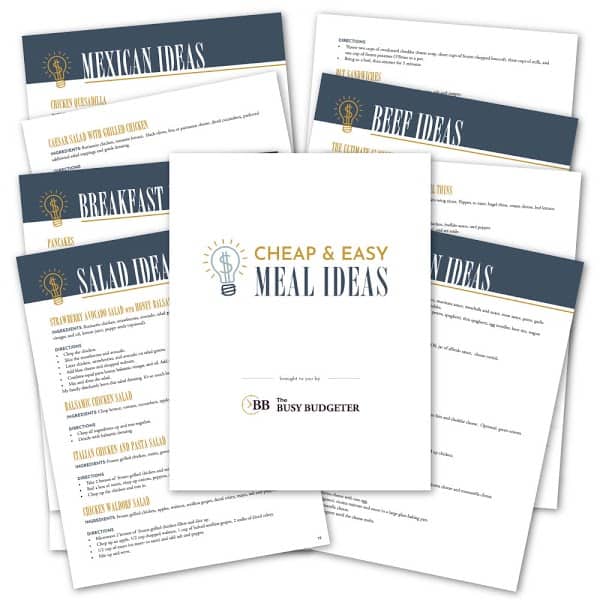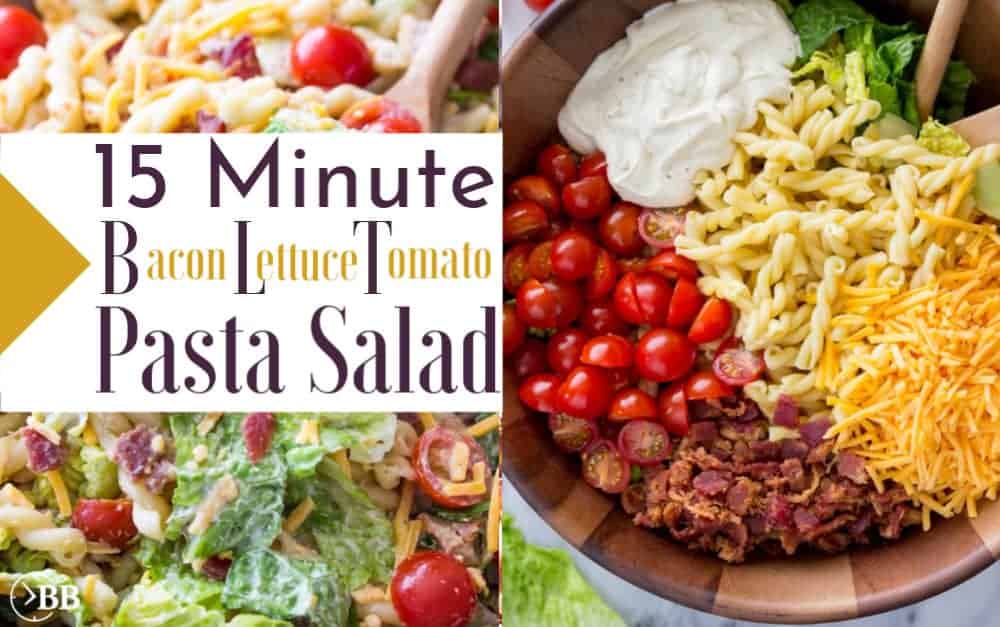 Every bite of this BLT pasta salad makes me feel like I'm at a picnic. Somewhere warm with summer-fresh produce surrounding me, freshly cut grass, maybe a picnic table with a red-checkered paper tablecloth.
BLT pasta salad brings me back to warmer (better) days without fail, and even if it's not summer when you're reading this and the best tomatoes you can get your hands on are of the supermarket variety, this salad does not disappoint.
It's an explosion of flavor, and a new twist on your classic BLT sandwich.
Like the sandwich, it's quite simple to make, but it doesn't even require you to cook your own bacon (more on that later).
We start with tomatoes.
If you can pick your own, all the better, but these little beauties above are from the supermarket, so store-bought works just fine.
Grape tomatoes are great because they can be quickly and easily sliced in half, but if you can't find them, Romas will work just fine, sliced into bite-sized pieces.
Next is the lettuce.
You'll need 3-4 cups of chopped Romaine lettuce. I buy it and cut it myself because it's cheaper, but it obviously takes a little more time. If you don't mind spending a few extra pennies, you can buy a 10-oz bag of pre-cut, pre-washed lettuce.
If you opt to cut your own, make sure to pat it dry with paper towels before adding it to your salad.
Now that you've prepped your produce, prepare your pasta according to the instructions on the box. I used "Gemelli" shaped pasta because I liked the way it looked, but rotini or even macaroni noodles would work just as well.
While the pasta is boiling, prepare your dressing.
Now, if you don't want to make your own dressing, you can absolutely substitute one cup of Ranch dressing instead.
This dressing is very easy to make, though, and you probably have everything you need handy.
It's made of a mayonnaise base, amped up with a touch of sour cream, and then seasoned with salt, pepper, and other spices.
Stir it up nicely and set aside.
Once your pasta is done boiling, strain it well. Now, you are going to need a large bowl to combine your ingredients.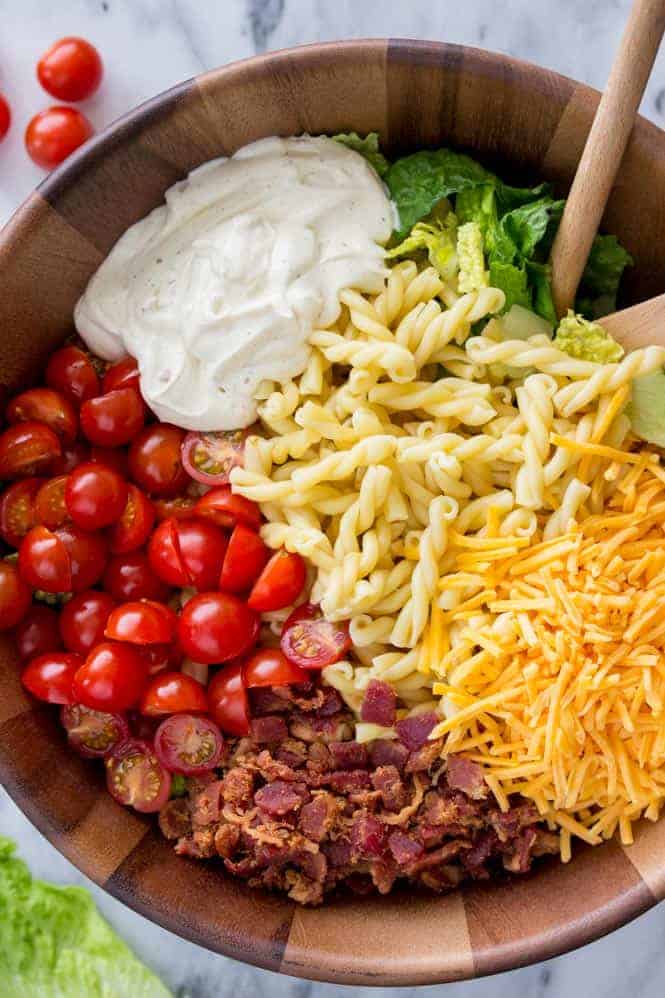 Lettuce (patted dry), grape tomatoes (sliced in half), cooked pasta, a simple homemade dressing, and cheddar cheese all go into the bowl.
But don't forget about possibly the most important part — the BACON.
You can fry your own bacon, pat it dry, and crumble it. You would need about 12 or so pieces for this BLT pasta salad.
Or, you can do what I do, and buy pre-cooked, crumbled bacon.
Not artificially flavored bacon bits, but real bacon bits or pieces. You can find them right by the salad dressing (the brand that I used for this particular recipe was Hormel). You can do pieces or bits (just smaller pieces), whichever you prefer, but while I used the pieces for the photographs here, I actually think I preferred the bits — smaller pieces of bacon, but more in every bite — your choice!
Once you've got everything in the same bowl, mix it well and serve it up!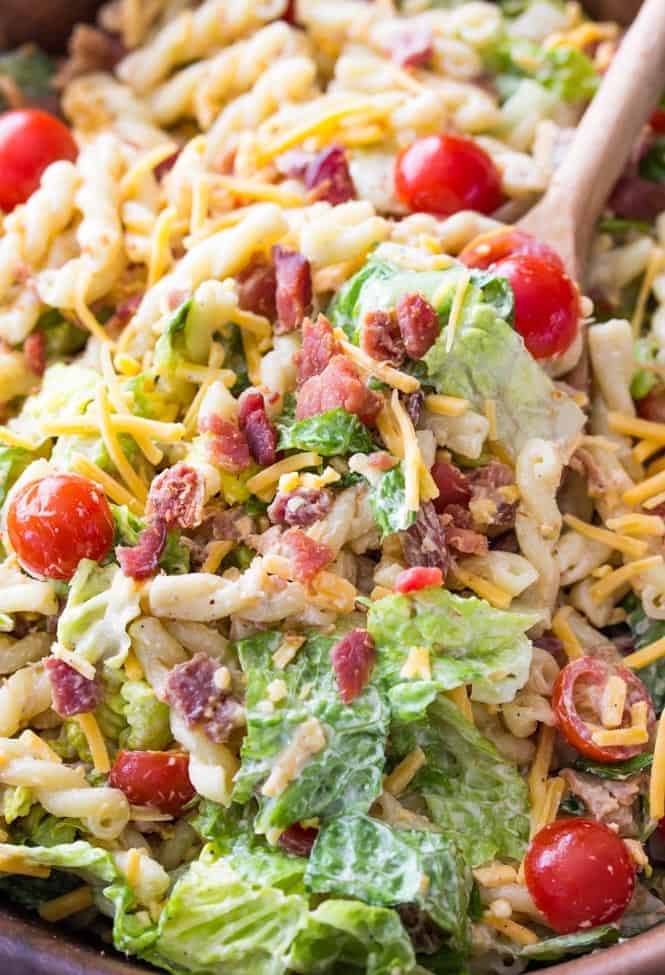 Keep any uneaten salad (unlikely!) refrigerated in an airtight container.
15 Minute BLT Pasta Salad
INGREDIENTS
For the Dressing:
¾ cup mayo (I prefer to use olive oil mayo to cut some fat & calories)

¼ cup sour cream

1 Tablespoon milk

½ teaspoon pepper

1/4 teaspoon salt

¼ teaspoon garlic powder

¼ teaspoon crushed red pepper — optional
For the Salad:
8 oz spiral pasta

3-4 cups chopped romaine lettuce (or 10-oz package pre-cut romaine lettuce)

1 pint grape tomatoes — halved

1 ½ cup shredded cheddar cheese

1 ½ cup bacon bits or pieces (

not

artificially flavored — about 6 oz)
INSTRUCTIONS
Prepare the dressing by stirring together mayo, sour cream, milk, pepper, salt, garlic powder and crushed red pepper (if using) until smooth and well-combined. Set aside.

Prepare pasta according to package instructions. When finished cooking, drain well and transfer to a large salad bowl.

Add chopped lettuce, grape tomatoes, cheddar cheese, bacon bits/pieces, and your prepared dressing.

Toss/stir very well, until ingredients are well-combined.

Enjoy!
Update: Do you spend too much on groceries? Do you end up calling for pizza or going through the drive-thru line more nights than you care to admit? I've totally been there! But the 90 Day Budget Bootcamp changed my entire life. You can now get immediate access to the 90 Day Budget Bootcamp for FREE (limited time only!) through this link. You'll learn how to create a *realistic* budget that you can actually stick to, create a meal plan of simple 15 minute meals (like this one!) that take less time than the drive-thru, and even get your spouse on board with the budget. Grab it here for free before it's gone!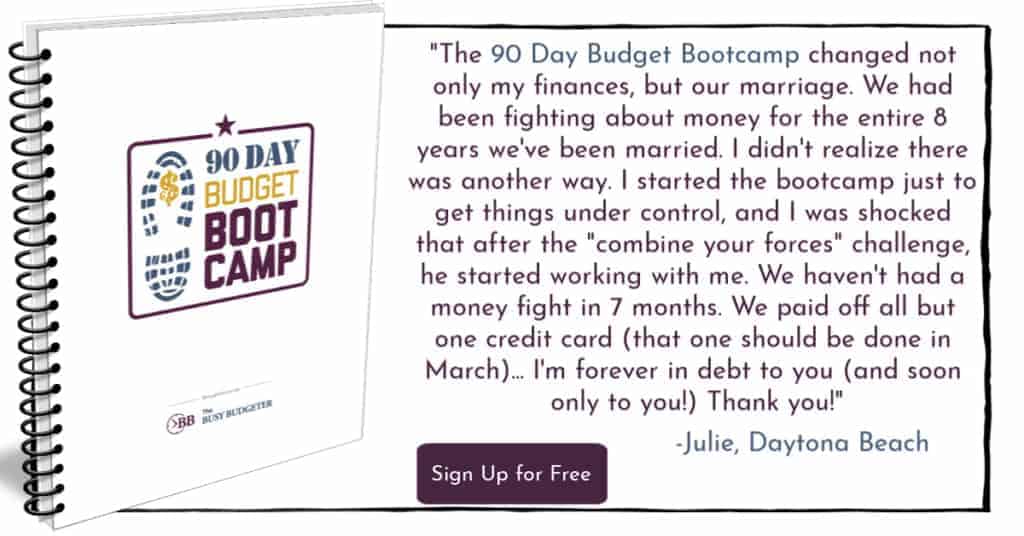 What's your favorite pasta salad recipe? Have you tried this simple BLT pasta salad with your family? Leave a comment down below!