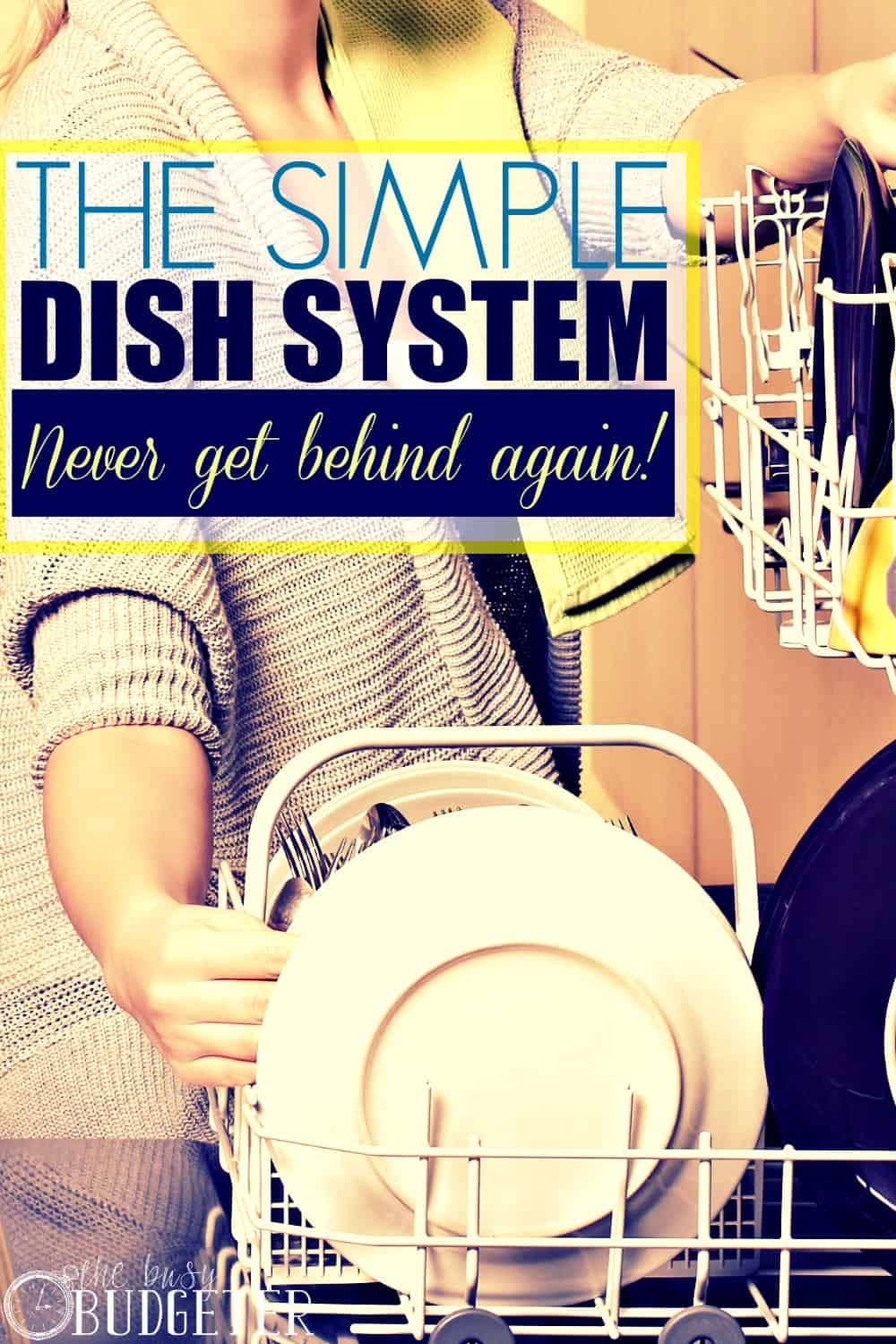 The very core of your home routine should consist of dishes and laundry. Everything that you do in your home stems from those two things. It's imperative to have both a laundry routine and a dish routine that works in order to have a well-run home. There's no way around it.
Update: 4/5/20 You asked for it and I'm delivering! Starting NOW, you can grab the Trashed to Total Home Transformation Survival Guide (Pandemic Edition) For FREE!
It teaches you step by step how to work with your personality to not only set up home routines that will work (no matter how many times you've failed in the past), but that you'll stick to… long after the pandemic is over.
We've taught hundreds of thousands of people how to use bare minimum consistent effort to completely transform their home (and life!). You're up next.
You can get your Survival Guide here for FREE…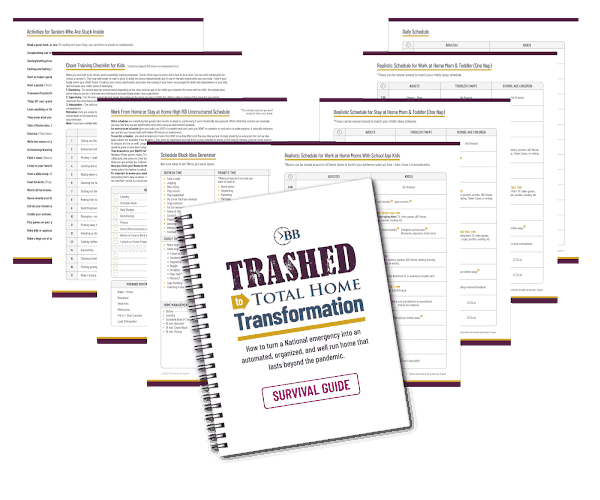 I don't care if your floors are sticky and your end tables have a fine layer of dust. Get the dishes and the laundry done first always. Let the other things go if you need to, but make sure that you keep the dishes and the laundry going.
The problem with doing dishes is that you start over every single day. It doesn't matter how amazing you did the dishes last night, if you don't do them today, you'll be back in crisis mode before bed.
Why is a routine to wash dishes so important if I'm trying to save money?
You need to establish the routines in your home that support your efforts to save money. Cooking at home is a huge way to reduce your spending. Being able to keep up with your dishes ensures that you can cook at home every night, pack lunches for work and even picnics for family outings.
Few people understand the way that organization, home routines and budgeting are intertwined. When most people set out to save money and fail, it's because they don't have the support systems in place for things like dishes and laundry to help make saving money easier. Taking the time to set this routine up, will make a huge difference in your efforts to save.
We teach this system in Hot Mess to Home Success– a step by step comprehensive home management course that teaches you how to use bare minimum effort on a consistent basis to easily manage your money and home even if you're chronically disorganized.
The Simple Dish System: The easiest routine to wash dishes.
Step 1: Every single night- the sink is left clear. Every night. Without fail.
Step 2: Leave the dishwasher empty for the start of the next day. This is the hardest part. You need to make this happen for 28 days in a row for this to become a routine. 28 days in a row and you'll never have to struggle with dishes again.
Step 3: As you use dishes, give them a quick rinse and put them straight into the dishwasher.
Step 4: At the end of every meal, set a timer for 5 minutes (as a family- everyone should be helping), clearing the table, doing the dishes, and sweeping up (assuming you have toddlers like me that leave a mountain of food on the floor).
Step 5: If you work out of the house and you're eating a quick breakfast on the go, you should only need to do one load a day. If you have more than one load- leave the large items (like pots and mixing bowls) out for a second load. It's much easier to find the motivation to empty the dishwasher that second time when you know that there is only 3-4 pots in it. Alternatively, you can also hand wash those larger items.
Step 6: Before bedtime set a 5-minute timer and empty the dishwasher. If anyone has added something dirty to the sink (late night ice cream bowls?), add those to the dishwasher to wait for more dirty dishes tomorrow.
What if I stay at home/work at home or cook every meal from scratch?
If you stay at home, you'll likely need to do more. I ran a home day-care for four kids, and packed lunches for everyone and I was doing 3 loads a day. I did once load after every meal.
Depending on your situation, I'm asking you to spend 10-20 minutes a day on dishes, every single day so that you never have to struggle with this again. It's a fair trade.
What if I don't have a dishwasher?
Having a dishwasher is convenient, but it also means you have to come back in an hour and unload. Tons of people (including my mother!) swear that hand washing is quicker and easier than using a dishwasher. The easiest method to hand wash the dishes:
Fill the sink with soapy water.
Add dishes to the soapy water as you use them.
Go through and wash them as you cook (as you have a few minutes available).
Wash your dinner dishes as soon as you're done eating.
Set them on a drying rack and put them away when they're dry (a quick swipe with a microfiber cloth dries them quickly).
My favorite trick: Use lunch containers.
I use lunch containers to pack lunches the night before (we use leftovers for lunches). Whether you stay home or work, having lunch already packaged and stacked neatly in the fridge makes your life so much easier. We use these containers exclusively because they're extremely thick and high quality. We've used ours for a year and they still look brand new despite daily washing. They come with color coded tops and stack on top of each other.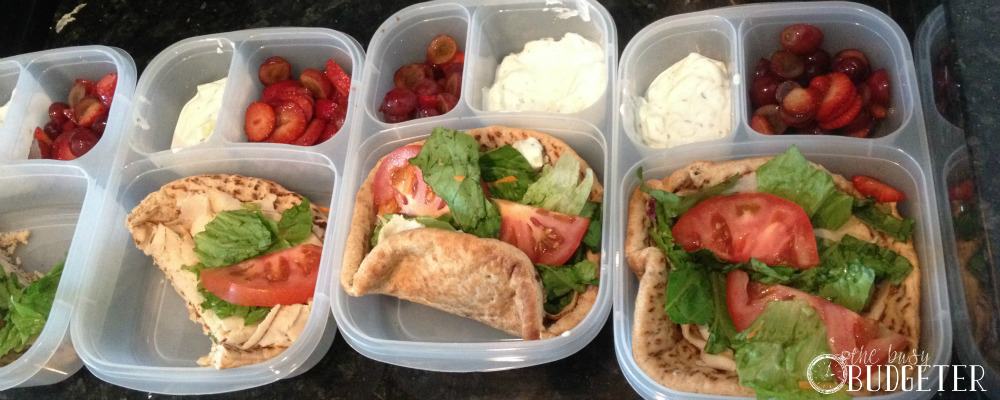 Have a back-up plan.
There are moments in your life when even 15 minutes a day to do dishes won't work out. Have a container of plastic cups, forks and plates waiting in the pantry for hectic times. We break these out for major changes in our routine… Situations like new babies, moving, remodeling etc. Maybe you'll never have to use them, but it's nice to know that they're there!
What's tougher for you? The laundry or the dishes?
This post may contain affiliate links. If you click & make a purchase, I receive a small commission that helps keep the Busy Budgeter up and running. Read my full disclosure policy here.disclosure policy here.