Looking for an easy way to create a holiday budget?  This is it.  Step-by-step holiday gift planning that won't destroy your budget!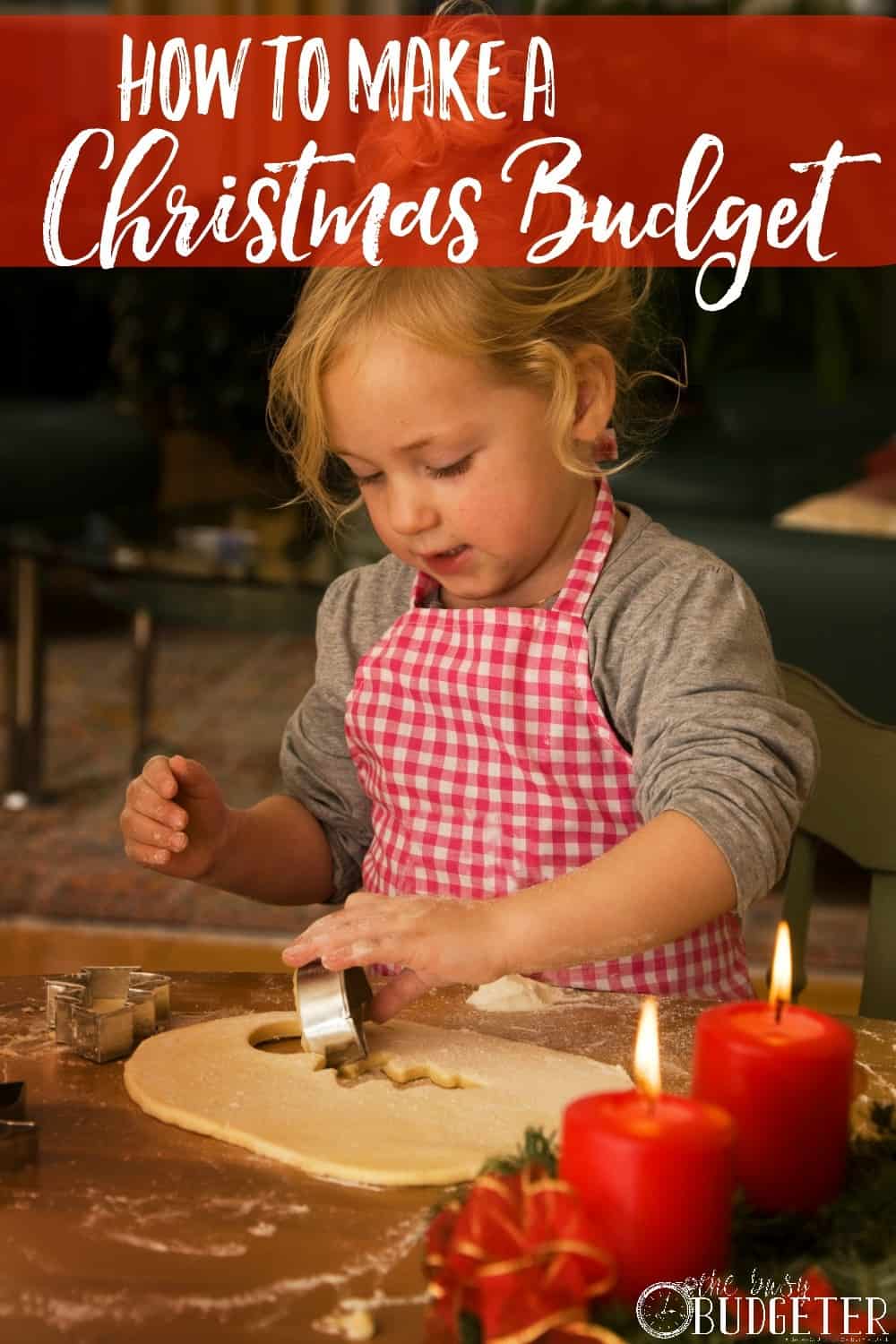 Even though this time a year is supposed to be all about thankfulness, happiness, and enjoying time with family, let's face it: the financial pressure that comes with the holidays is enough to drive anyone crazy.
While it's important to have a regular budget system in place year round, it's even more important to have a budget when you're planning for the holidays.  Between special holiday traditions, traveling to visit family that's far away, and trying to find the perfect gift for everyone on your list, your spending can easily get out of control if you're not mindful of it.
With that in mind, I want to help you create a budget for this holiday season.  I realize that doesn't sound like what you want to spend your time on, but it's the key to having a happier, more relaxing holiday season (that doesn't leave you stressed out and in debt!)
How to Create a Holiday Budget
Write down everything you need to budget for.
The first thing you need to do to create a budget for the holidays is to know exactly what you need to budget for.  So start by getting out a piece of paper and a pencil (or a Word document/Excel spreadsheet) and write out everything you'll need to spend money on.
Some examples:
Gifts for you and your spouse
Gifts for your children
Gifts for extended family and friends
A Christmas tree
Decorations
Activities, like going to the zoo for special holiday exhibits.
Travel expenses
Holiday dinners
Special treats for holiday mornings, lunches, etc.
Candy for advent calendars
Stocking stuffers
Family photography
Holiday outfits
Christmas cards
Special seasonal treats that you want to stock up on, like candy cane Oreos (my favorite!)
You might be surprised by how many things actually end up on your list, and don't worry if it looks more like a brain dump right now. You can get it organized in a minute.
The important thing is that you'll begin to recognize all the expenses you want/need to be covered.
P.S. We use this spreadsheet from SunTrust every year for this step, and it's awesome.
Estimate the cost of each item on the list.
Go through your list and write down what you think each item will cost, or what you want your spending limit to be.
At this point, it's a good idea to enter everything into a spreadsheet to more easily add everything up.  Having a running total will help when you get to the next part because you can better see how much you need to cut.  You can do it by hand, too, it just takes a little longer.
Prioritize your expenses.
You might be a little surprised by the total cost of your holiday celebrations.  I know I was when I did this for the first time.
If it's an amount you're totally comfortable spending, great!  You can move on to tracking your expenses.
However, if it's an amount that makes you cringe, it's time to start figuring out what things on that list are most important to you, and what things you can either do without or make adjustments to.  And that's 100% dependent on what's important to you and your family.
For example, is it important to you to spend $50-60 on a live tree, or will a $20 fake tree and a few pine-scented candles from Walmart suffice?  If a live tree is important to you, you'll just have to make up the expense somewhere else.
If you're shocked by how much you plan to spend on gifts for your children, could you find a way to limit it?  You could stick to one gift per child, or something like the "want, need, wear, read" method.
As for you and your spouse, if gifts are looking a little too expensive right now, maybe you could get a single gift you can both enjoy, like a board game or a subscription to a magazine you both enjoy and could read together, like National Geographic.
You may also have to make some hard decisions when it comes to giving gifts to your extended family and friends.  Even a $10-$20 gift per person can quickly add up and threaten your financial well-being.
It might feel embarrassing to explain that gifts for others aren't in the cards right now, but if you want to be financially healthy and empowered, it has to always be a priority.
One important thing to remember when you're prioritizing your expenses is that, no matter what the commercials tell you, it's the moments that make this time of year special, not the things you give or receive.  You can save a lot of money by reminding yourself that your focused, loving, unadulterated presence is the best present your family can get.
That's what your kids will remember, more than any toy you can give them.
Track your expenses.
Now that you've planned out what you want to spend this season, it's time for the tricky part: tracking your expenses and holding yourself accountable.
Every time you spend money on a holiday expense, keep the receipt and track it on your budget sheet.
If you've spent less on something than you anticipated, great! You can either choose to spend the extra money on a different item on your list or pat yourself on the back and tuck that money into savings for the future.  Both are excellent ideas that, again, depend on your priorities.
Plan as far ahead as possible.
This is more of a tip for next year since it's already November, but by planning ahead for holiday expenses, you can save a lot of money.
For instance, I use Ibotta whenever I go grocery shopping, and that little extra each week gets saved until the end of the year to use toward Christmas presents.
You could also set up a separate holiday savings account and put a few dollars in it here and there.  The small deposits will add up over time and help lessen the financial strain at the end of the year.
Also, planning ahead is a great thing to do if you're skilled at DIY projects.  You can save a lot of money on gifts for friends and family by choosing to do homemade gifts.  For example, if you knit or crochet, plan out gifts in January and start working on them slowly over the year.  That way, you'll be able to relax during November and December and still give thoughtful gifts!
Creating a budget is a really important step in holiday planning.  Being mindful of your spending and expenses will help you feel more in control and be able to relax this holiday season.  Give your family the gift of a less-stressed mom.
If you want to learn more about planning for the holidays, check out SunTrust's Holiday Guide! It has everything you need to know to save money on the holidays.  
What is your favorite way to plan for the holidays?
FTC Disclosure of Material Connection: In order for us to maintain this website, some of the links in the post above may be affiliate links. Regardless, we only recommend products or services we use personally and/or believe will add value to readers.
If you want to learn more about planning for the holidays, check out SunTrust's Holiday Guide! It has everything you need to know to save money on the holidays.
At SunTrust Bank their purpose is lighting the way to financial well-being. When you feel confident about your money, you can save for your goals and spend knowingly on what matters most to you.
The onUp movement was created to guide millions of people one step at a time towards a more financially confident life without ever losing sight of the moments that matter along the way.
Join the growing number of people transforming their stress into positive motivation to move onUp.
This is a sponsored conversation written by me on behalf of SunTrust. The opinions and text are all mine.