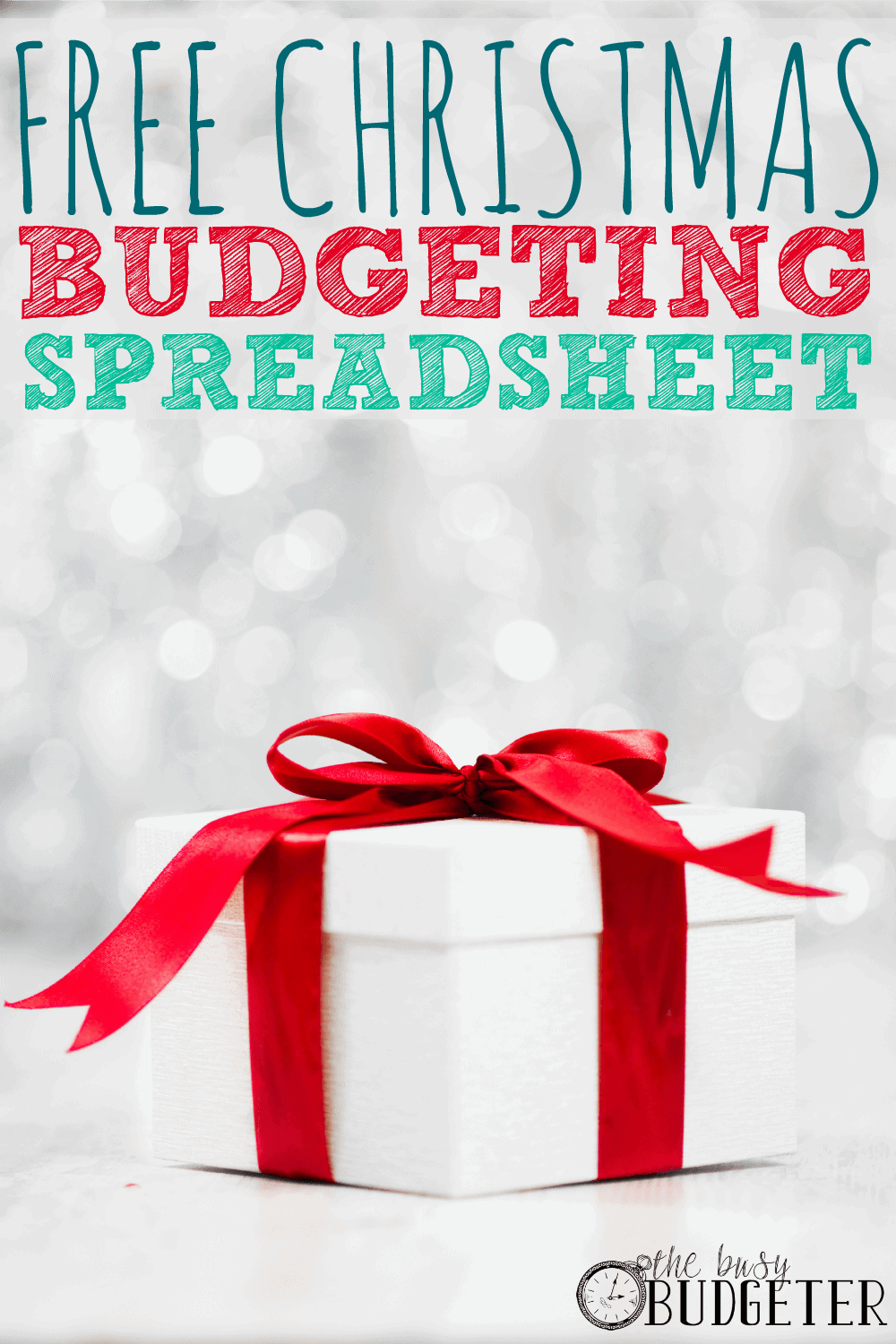 Thanks to Suntrust for sponsoring this post! All opinions are mine.
Every Christmas, I get flooded with reader questions about how to pay for Christmas. Families that are struggling with bills, trying to shovel their way out of a mountain of debt, are wondering how they can find the money to handle the massive price tag that comes from their big holiday parties, or extended family gift exchanges.
Every Christmas, it breaks my heart to read these. I'm so grateful to be in a position to send them to Christmas Budgeting tools like Suntrust Bank's holiday budgeting spreadsheet and talk to them about scaling back.
I know how hard it is to break away from what you used to do. It can seem overwhelming to tell your in-laws or your extended family that you can't afford to be a part of the Christmas exchange this year. It can feel embarrassing to give homemade cookies as a gift when someone buys you something expensive. When you feel overwhelmed by facing these situations, it can be easy to give in and buy things you can't afford to save face.
You know the true meaning of Christmas, but you don't know how to make it happen.
Christmas doesn't mean spending your savings account to buy gifts for friends.  It doesn't mean going into debt to afford the Christmas your family deserves. Think of it this way: If your best friend was struggling financially and she made you cookies for Christmas, or even wrote you a letter about what you meant to her, would you be upset that she didn't get you a "real gift?"
No way! That's crazy! If your best friend came to you and suggested that you guys don't exchange gifts this year because she wants to boost her savings, (or even be able to save more towards an upcoming Disney World trip), would you care? Not even a bit!
This is because you love your best friend. You want all the best for her, and you would never want her to have stress in her life from you. You don't need gifts from her because her being your friend is a gift to you every single day of the year.
When you scale back at Christmas, the people that love you will still love you. By definition of the word, it is impossible to lose a friend over not spending money on them.
Christmas doesn't have to mean debt.
Christmas doesn't have to mean stress.
I was in your shoes once. I was faced with the decision to spend money that I didn't have so I wouldn't upset the balance of Christmas gift giving. I decided that giving when you have to go into debt to give and because you feel obligated isn't generous, it's stupid.
My loved ones care about me. They want me to be financially stable and happy. They don't want or need the body wash sets or perfume I was going to buy them. Certainly not at the expense of my goals and dreams.
So, I talked to them about it. I came up with the concept of the $10 Christmas. It caught on like wildfire and is now one of our favorite traditions.
Christmas Means Memories.
Christmas means creating memories with the people that are closest to you. Hot cocoa parties, sledding, winter wonderland walks, and tree decorating. There are so many special moments that you can create this season. If you plan ahead, you can have an amazing and fun Christmas for so much less than you've spent in years past.
Our entire Christmas budget this year is $280, which is a fraction of the average American's Christmas budget of $800. Our budget includes parties, gifts, special events, the tree, decorations, even the cookies.
So the question is… how much are you spending on Christmas?
If you have no idea, now is the time to change that. Just grab a sheet of paper, jot down the names of everyone that you're buying for and list a reasonable amount of money to get (or make) a gift. Add in the cost of your Christmas tree, an amount for any decoration you plan to buy, food for any holiday parties, and any special events you plan to go to.
Suntrust is giving you the opportunity this year to make sure that you're under budget.
Here's how they can help you:
Suntrust created a FREE Excel spreadsheet that automatically gives you splurge money as you go under budget for certain gifts! Letting you have a little wiggle room and ensuring that you stay within budget.
This is such a great program! I used to do my Christmas budget on paper and had a million scratch marks where I was a few dollars under here, and added a few dollars to another section. This is the first year I used Suntrust's free Excel spreadsheet and it's so much easier!
You can get the budgeting worksheet here.
They even created a money saving holiday guide!
The holiday guide gives you inventive ways to save this season on everything from holiday travel to meals and gifts. Bonus points because they show you simple ways to plan for next year so that you'll never feel this budget crunch again.
Grab your free money saving holiday guide here.
The best Christmas you'll ever have is waiting for you… and it doesn't cost a thing.
You can find out more about budgeting for Christmas here. 
How much are you spending on Christmas this year?
Thank you to Suntrust for sponsoring this post and creating such innovative programs to help people budget wisely for Christmas!
The holidays are for focusing on moments that matter. But for many Americans, financial stress can get in the way. This year, you can make small changes that make a big difference for your financial well-being.
In this holiday planning guide, you'll find tips for getting organized and making a plan for holiday spending so you can feel confident in your ability to stay on track with your budget. You'll see how other Americans are shopping, traveling, celebrating and giving in ways that make the holidays cost less, but mean more.
For more holiday planning advice visit  holiday resources
Meaningful spending made easy with a budgeting tool to help you make a plan and stay on track with your holiday spending.  Download here.
This is a sponsored conversation written by me on behalf of SunTrust. The opinions and text are all mine.