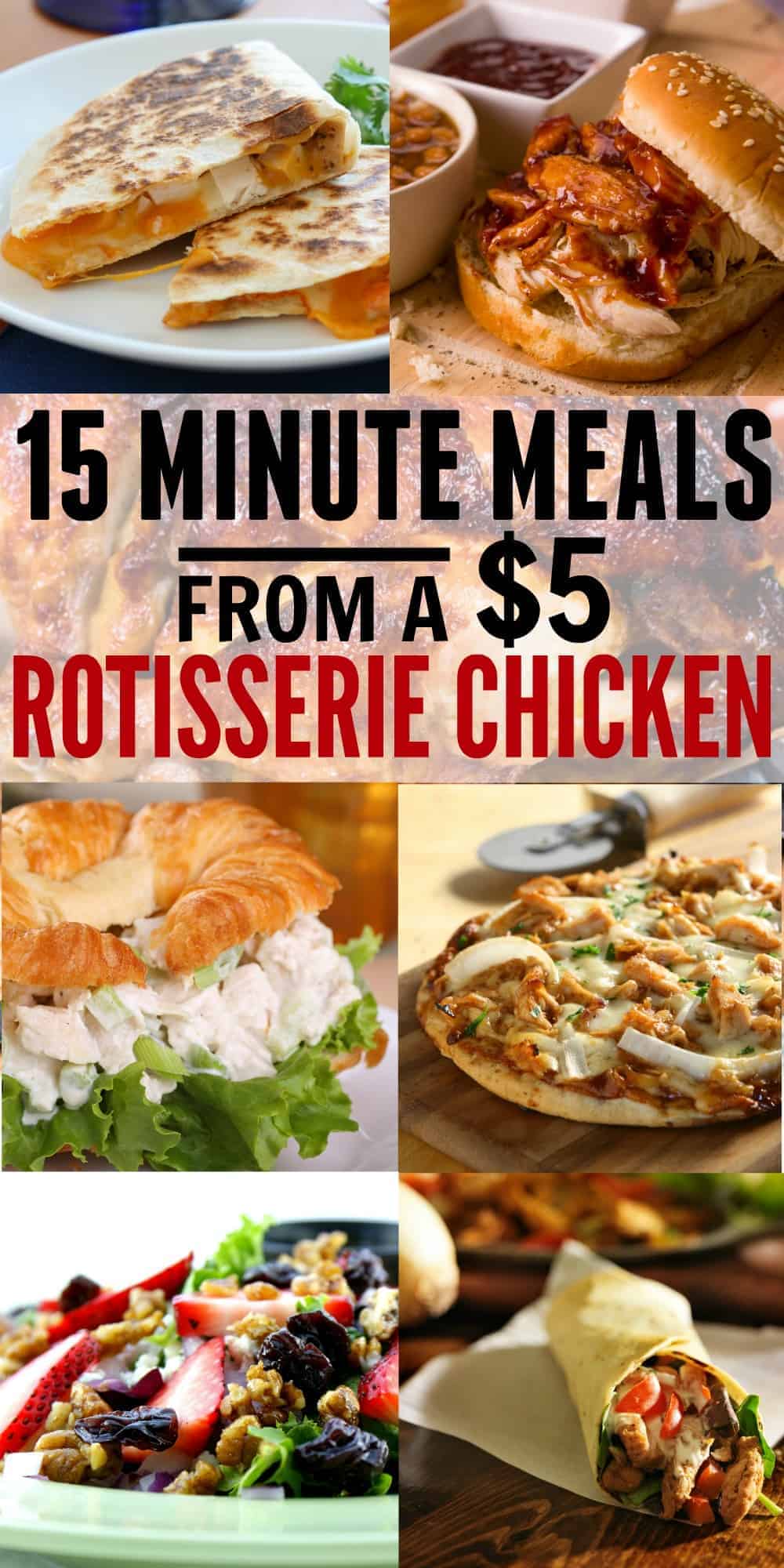 Budget Meals Using a Rotisserie Chicken
Rotisserie chickens are my budget meal secret weapon. These super cheap cooked chickens make the last minute dinner rush easy! While they're delicious on their own with a simple side, we usually upgrade them into a family favorite.
Update: 4/5/20 I know how stressful it is right now to be cooking 2-3 times a day while you're also trying to work, "home school", referee kids, and get your house under control. We created an epic inspiration binder of the easiest cheap meals. These ideas are field-tested by hundreds of thousands of our readers and are guaranteed to help even the most overwhelmed mom stick to a meal plan.
And we're giving it to you 100% free right now so you can use it to help you get through this time. And bonus: You'll end up using it long after the pandemic is over.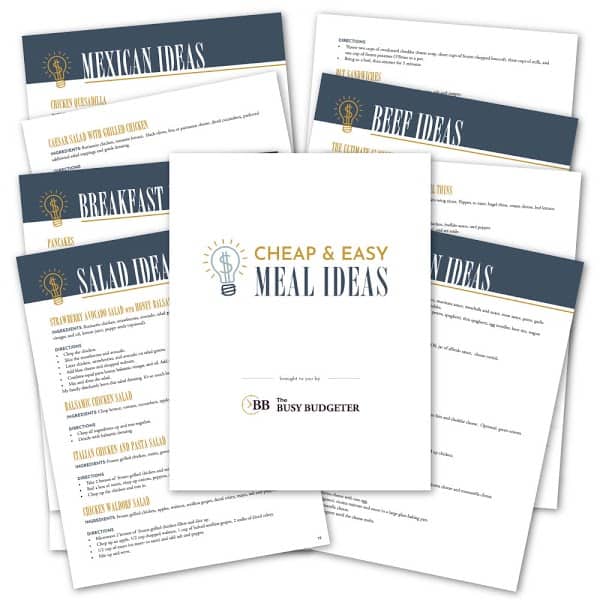 These are a staple in our house for when I've completely failed at dinner. It's cheaper and healthier than takeout, and my family usually has no idea that I screwed up the menu plan. They think this was all just part of my plan. I actually keep a list of easy meals using a rotisserie chicken on the first page of my menu planning binder.
We're huge fans of 15-minute meals here because honestly… I hate cooking. And I hate the stress of trying to cook dinner with my toddlers underfoot and my husbands unpredictable evening schedule.
We started making 15 minute meals for every single dinner when we reduced our spending by over $23,000 a year and then paid off all our debt so I can stay home with the kids. We went through the 90 Day Budget Bootcamp and it was absolutely life changing. It stepped out the only meal plan I've ever been able to stick to consistently. You can get instant access to the program for free here.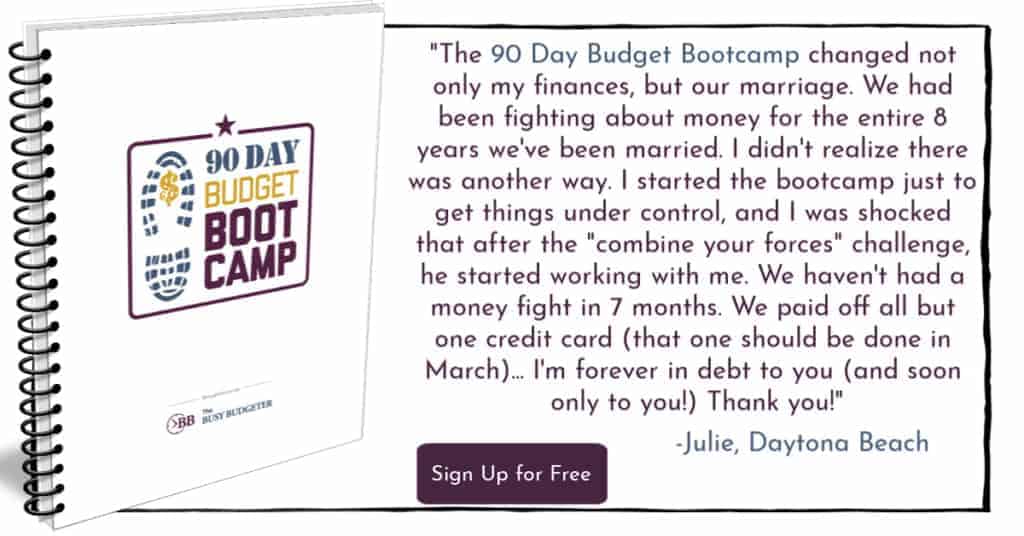 Rotisserie Chickens are one of the best buys in a grocery store. Usually, you can find them in your area for $4.99 (Costco, Walmart and Wegmans all have them for $4.99 in my area). At Walmart, you can even try this trick to snag them for half price!
Thinking of roasting your own chicken? Think again. The rotisserie chickens are actually significantly cheaper than raw chickens that you have to cook yourself. The reason has to do with grocery store economics, but I prefer to just roll with it and not look a gift horse in the mouth (what does that even mean?)
In fact, we once roasted our own chicken for one of our cooking date nights and while it was delicious, it wasn't spectacular enough to offset the amount of work that went into it. My philosophy is that we should do what we do best. That means I'll leave rotisserie chickens to the grocery store and I'll expend my energy on lasagna.
Easy Meals Using a Rotisserie Chicken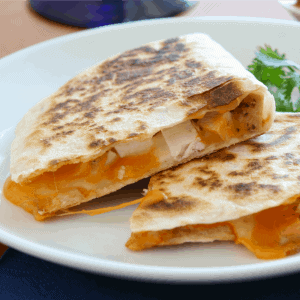 Quesadillas
Chop up the chicken, add cheese and extras (black beans, green pepper, onion, and salsa to taste). Place a flour tortilla in a buttered hot skillet on medium high, add filling, layer with another tortilla, turn when cheese is melting and cook the other side to a crisp.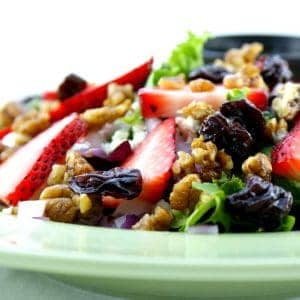 Strawberry Avocado Salad with Honey Balsamic Dressing
Chop the chicken. Slice the strawberries and avocado. Layer chicken, strawberries, and avocado on salad greens, then add blue cheese and chopped walnuts. Combine equal parts honey, balsamic vinegar ,and oil. Add a splash of lemon juice (and poppy seeds if you have them). Mix and dress the salad.
This is also our favorite salad dressing. It's a million times better than any store bought and we make it frequently.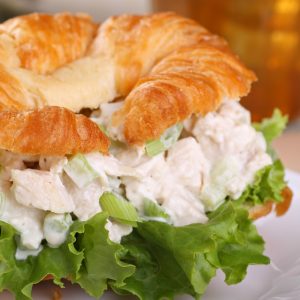 Chicken Salad Sandwiches
Chop the chicken, add mayonnaise and mustard to taste, along with salt and pepper. Stir until chicken is coated. Add extras if you have them like celery, onion, apples and grapes. I'm not really one for in-depth recipes on stuff like this, but if you need it, This Simple Chicken Salad is my husband's favorite.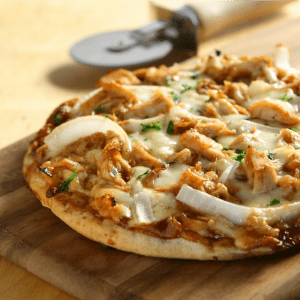 Buffalo Chicken Pizza or BBQ Chicken Pizza
Buffalo Version:Preheat oven to 400 degrees. Coat chopped chicken in hot sauce (we add some melted butter to ours) layer a Boboli pizza crust with room temperature cream cheese, then sprinkle with ranch seasoning (the dry dip kind), then a little mozzarella cheese, and finally the dressed chopped chicken, sprinkle more mozzarella and bake for 10 minutes.
BBQ Version: Preheat oven to 400 degrees. Spread a thin layer of BBQ sauce over a Boboli pizza crust (leaving the crusts without sauce). Sprinkle Monterey jack cheese over crust, add finely chopped chicken and red onion then more cheese. You can add extras as you have available (crumbled bacon is our favorite!) then bake for 8-10 minutes.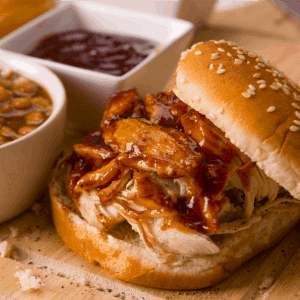 BBQ chicken sandwiches
Chop hot chicken, mix with BBQ sauce, spoon onto hard rolls. You can also top with cheddar cheese and broil for 2 minutes to melt and toast.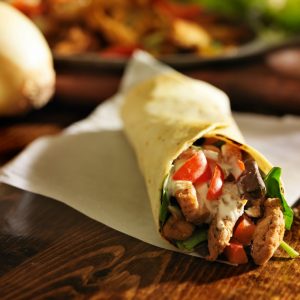 Chicken and Veggie Wraps
Chop up chicken and lay down the middle of a flour wrap. Stuff with your favorite veggies, cheeses, dressings. Roll up to serve. You can also slice into pinwheels, securing with cream cheese or toothpicks.
Our favorite variation is a Ranch chicken wrap with chicken, corn, green pepper, red pepper, onion, lettuce, shredded cheddar, a cream cheese base and topped with ranch dressing.
Choose Simple Sides
I usually pair these meals with a super simple side like fresh fruit or a bagged salad to make the meal as effortless as possible. We keep a list of easy to prep sides in our house for situations like this.
Cut apples or pears.

Fruit salad.

Apple sauce.

Bagged salad.

Coleslaw (ready made).

Baked Beans.

Chips and Guacamole (we have a super simple guac recipe that involves mashing avocado with a whisk, adding lime juice, cilantro and onion. That's it!)

Canned or frozen corn.

Canned or frozen green beans.

Baby carrots and celery with ranch dressing.
Need step-by-step instructions for organizing your meal plan? Check out our FREE Home Rescue Challenge here…
Need more easy dinners?
If you struggle with getting super easy and cheap dinners on the table, I can tell you what's worked for us.
You can see our favorite 15-minute meals here and then we found out about this freezer cooking service that cut our grocery budget in half.
Neither require much cooking skill and you can save a fortune on your grocery budget!
And lets not forget the $70/week menu plan for our family of four with 20-minute meals.
90 Day Budget Bootcamp is FREE right now!
Update: Do you spend too much on groceries? Do you end up calling for pizza or going through the drive-thru line more nights than you care to admit? I've totally been there! But the 90 Day Budget Bootcamp changed my entire life. You can now get immediate access to the 90 Day Budget Bootcamp for FREE (limited time only!) through this link. You'll learn how to create a *realistic* budget that you can actually stick to, create a meal plan of simple 15 minute meals (like this one!) that take less time than the drive-thru, and even get your spouse on board with the budget. Grab it here for free before it's gone!
You can now join the 90 Day Budget Boot Camp for free! Get step by step instructions for how to set up a budget, maintain a budget, and save money. With hundreds of success stories and reviews, this is not an opportunity you want to miss! Join the Budget Boot Camp here.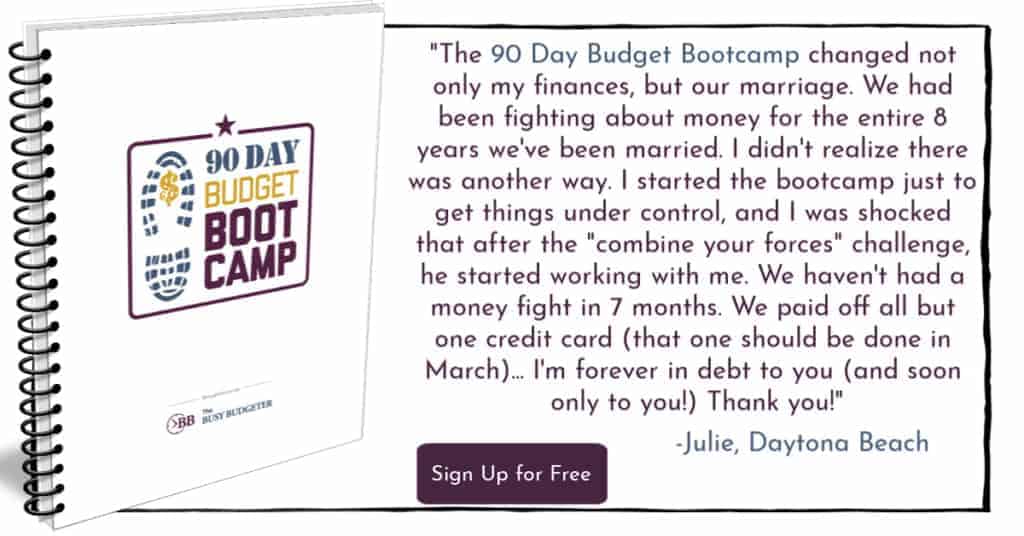 What are your favorite easy meals using a rotisserie chicken?
You can find more easy dinner recipes here (cooking skills never required!)
Other popular posts…
More 15 Minute Meals…
3 Weeks of Cheap 15 Minute Meals….
2 Weeks of 15 Minute Meals from Scratch…
Our $70/Week Meal Plan of 20 Minute Meals for Breakfast, Lunch, and Dinner for our Family of Four…