If you're looking for cheap dinners that can be made in less than 15 minutes, (even with toddlers at your ankles), then look no further! This super easy list of cheap dinners, ready in under 15 minutes saves us week after week!
Update: 7/23 I know how stressful it is to figure out dinner every night of the week. We created an epic inspiration binder of the easiest cheap meals. These ideas are field-tested by hundreds of thousands of our readers and are guaranteed to help even the most overwhelmed mom stick to a meal plan.
And we're giving it to you 100% free right now so you can use it to help you get through this time. And bonus: You'll end up using it long after the dinner rut is over.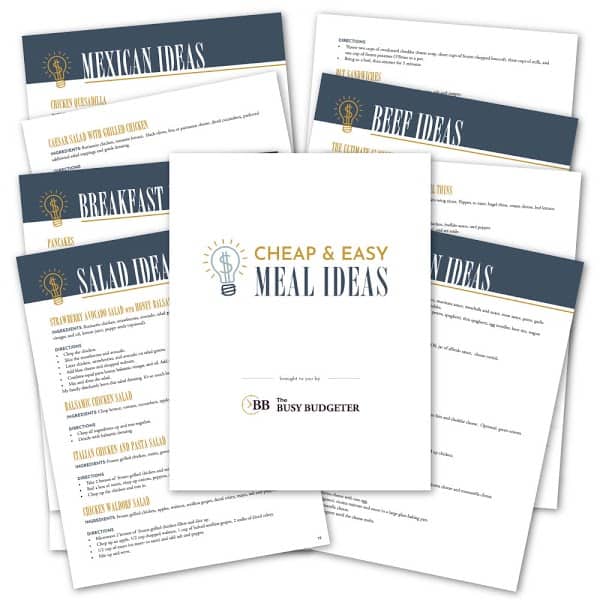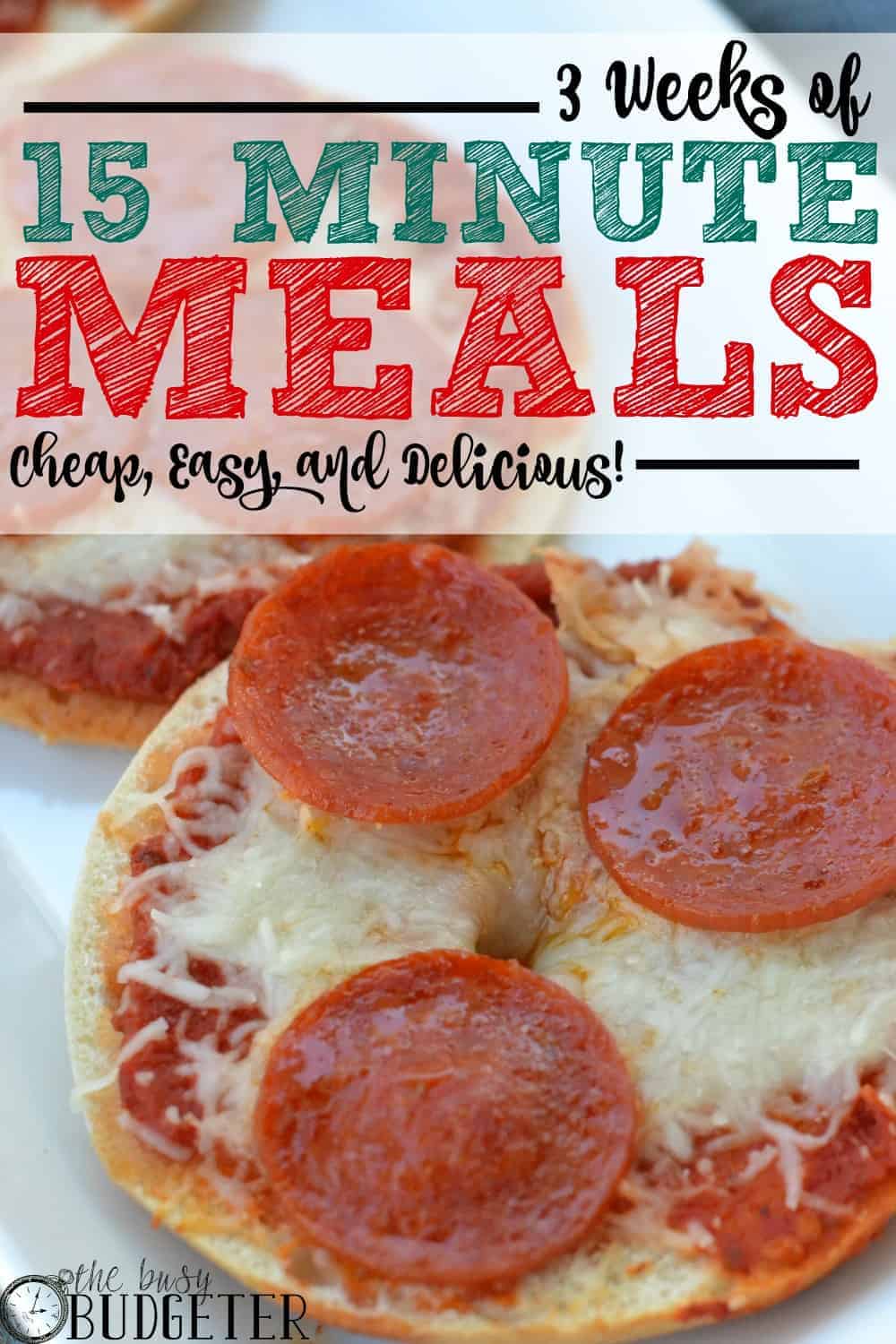 Cheap Dinners in 15 Minutes or Less…
Thanks to an insanely busy schedule, my husband and I had some really poor eating habits. We know that fast food isn't the best for us but ended up in the drive-thru more often than is humanly acceptable. When we started making better life decisions, this became a glaringly obvious problem that needed to be corrected.
We started making 15 minute meals for every single dinner when we reduced our spending by over $23,000 a year and then paid off all our debt so I can stay home with the kids. We went through the 90 Day Budget Bootcamp and it was absolutely life changing. It stepped out the only meal plan I've ever been able to stick to consistently. You can get instant access to the program for free here.
We get up at 6:30 am, and don't get home at night until 6 pm. When we get home, we head straight to the gym and by the time we get back we're famished, and even 30 minutes is too long to wait for a meal.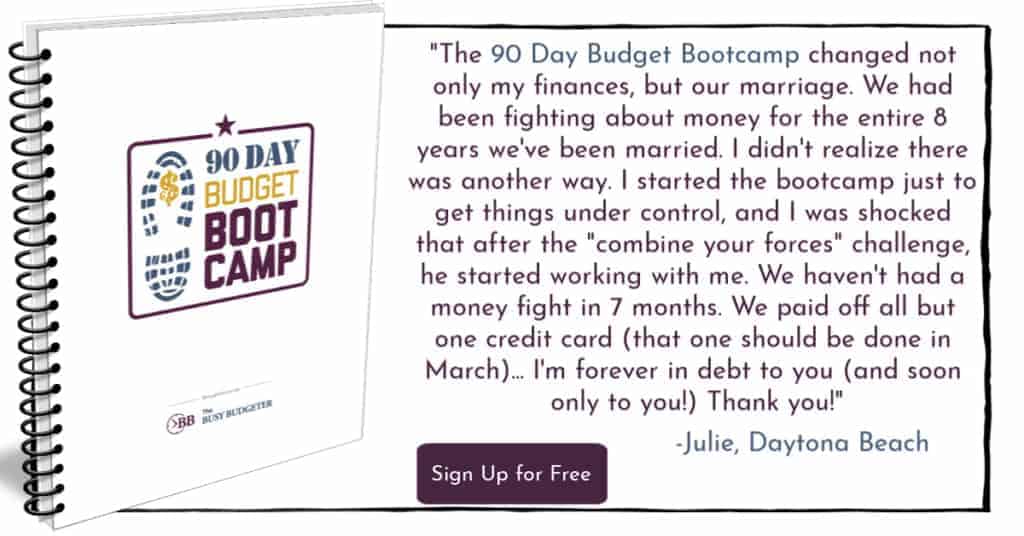 Once you're that hungry and tired, you start making decisions with your stomach and not your head. A quick trip to the drive-thru and you've ruined the workout you just did, spent money, and wasted the food that you had planned for dinner.
After a few phases of trial and error, trying to eat healthier and save time, we made it simple. Keeping home management routines super simple is the number one key to making real changes.
There is a $100.00/week food budget and I pick my meals off of the following list. Of course, we could eat healthier, but this is a huge jump from where we were and it works with our schedule. We can get even healthier in the next phase. For now, we need food we want to eat, on the table in 15 minutes or less.
Need step-by-step instructions for organizing your meal plan? You can learn more about our Hot Mess to Home Success course here…
These are all cheap dinners and will save you a ton of money as well over eating out frequently.
Most of these ideas involve little cooking (if any), but if you don't mind cooking from scratch, the $70/week grocery budget and meal plan for our family of four has 20-minute meals that are delicious and are a great way to jumpstart a new grocery budget!
THE CHEAP DINNERS AND QUICK FOODS DATABASE:
We also buy a huge pack of mixed greens and a bottle of dressing from Wegmans each week and serve salad every night. ($5.99 for the club pack of mixed greens, and $1.29 for Wegmans salad dressing).
**The totals are what it will cost you to buy all of the ingredients… not per serving.**
ITALIAN CHICKEN AND PASTA SALAD, WITH GREEN PEPPER, ONION, OLIVES, AND TOMATO
Take 2 breasts of Tyson frozen grilled chicken and microwave them, boil a box of rotini, chop up onions, peppers, and a fleshy tomato, add sliced olives and a bottle of Wegmans Italian dressing. Chop up chicken and toss in. Total Cost at Wegmans (enough for 2 plus leftovers): $9.98
LASAGNA (FROM FREEZER):
This is the ultimate cheap dinner idea.
I make pans of lasagna on the weekend or for parties, then cut it up and wrap each piece in wax paper and tin foil. The recipe that I use takes an hour, it's printed on the back of Sangiorgio Oven Ready Lasagna Package. One pan makes enough for 5 servings of 2 people. I normally grab a giant bag of salad each week and dish out a little each night. Total Cost at Wegmans: $10.86
BOBOLI PIZZA:
I actually use Wegmans pizza crust since it's cheaper and tastes better, just slop on some pizza sauce, mozzarella cheese, green pepper, onions, and pepperoni. Put your oven on 425, and stick pizza in right away, 15 minutes later… you're done! Serve with a side salad. Wrap leftovers in wax paper and foil, you can microwave later for a quick lunch or snack. Total Cost at Wegmans: $9.56
BREAKFAST BURRITOS– great for dinner too!
Stick cheap Banquet fully cooked sausage patties on stove top, scramble eggs on another burner, chop up sausage, green pepper, and onion. Microwave burrito tortillas for 30 seconds, fill with eggs, sausage, pepper, and onions, sprinkle with cheese. You can add salsa or hot sauce if you would like. Serve with a can of mandarin oranges. This will make about 6 servings, wrap leftover burritos in wax paper and tin foil, then freeze. When you want to reheat, remove foil, and microwave. Total Cost at Wegmans: $7.26
HOT DOGS, HAMBURGERS, KIELBASA:
If you have a grill- this is a great option! See my previous post for cheap BBQ's. We buy 6.5 pounds of ground beef at $1.99 pound and form our own patties, we buy 16 hamburger rolls for $1.99, wrap each bun in foil and freeze, we stick the buns right on the upper shelf of the grill still wrapped up, they end up delicious! Your entire meal is frozen ready, so it's an easy fill in meal. Total Cost at Wegman's per hamburger: $0.62
GRILLED CHICKEN FILLET AND MACARONI AND CHEESE
Buy a bag of Tyson frozen grilled chicken fillet, and heat on stove top, meanwhile make macaroni and cheese on stove top. Serve with salad and topping of choice for chicken. Total Cost at Wegmans: $5.05 (assuming you have milk and butter in the house to make macaroni and cheese).
ALFREDO PASTA, CHICKEN, AND BACON BITS
Boil a box of rotini, microwave 2 fillet's of Tyson frozen chicken breast, drain pasta, stir in a bottle of Classico Alfredo Sauce, and diced up chicken. Sprinkle with bacon bits. Serve with salad. Total Cost at Wegmans: $3.51
CHICKEN, CORN, TOMATO, AND CHEDDAR CHEESE WRAPS WITH RANCH DIP.
Microwave 2 breasts of Tyson grilled chicken fillet's and dice up, chop up a beefsteak tomato, fill burrito tortillas with diced chicken, canned corn, diced tomato, and cheddar cheese. Serve with ranch dressing and a salad. Makes about 4 wraps. If you have leftovers, wrap in wax paper and foil and take to lunch the next day. Total Cost at Wegmans: $8.01 (but you'll have extra ranch dressing and burrito tortillas to use another day).
CHICKEN WALDORF SALAD USING FROZEN GRILLED CHICKEN:
Microwave 2 breasts of Tyson grilled chicken fillet's and dice up, chop up an apple, 1/2 cup chopped walnuts, 1 cup of halved seedless grapes, 2 stalks of diced celery. 1/2 cup of mayo (or more- to taste), and add salt and pepper. Mix up and serve.
Total Cost at Wegmans: $7.83
HOT ROAST BEEF SANDWICHES:
Take 2 slices of bread and spray with cooking spray, place in pan on stove top, layer on roast beef luncheon meat, cheese, mayo, salt and pepper. top with more bread, cook and flip on stove top until melted, serve with salad.
Total Cost at Wegmans: (with leftover ingredients to make twice): $6.47 ($3.23 if you can make it twice in a week.)
CHICKEN QUESADILLAS:
Microwave 2 fillets of Tyson Frozen Grilled Chicken Breast and dice up, cook tortilla on pan on stove, fill with chicken, shredded cheese, salsa, green pepper, and onion, top with a second tortilla and apply weight (another frying pan?) flip and serve. Serve with salad. Cost at Wegmans: $8.01
BLT SANDWICHES:
This is by far the easiest of the cheap dinner ideas.
Start up the old George Foreman Grill to make quick work of that bacon (or even just buy precooked heat and eat bacon!), put bread in the toaster and slice up a beefsteak tomato and iceberg lettuce. Assemble, top with mayo, salt and pepper and serve with salad… viola! It's like your 12 again! 🙂 Total Cost at Wegmans: (with plenty of leftover's to make this twice in a week) $7.98 (or $3.99 if you can serve twice in a week).
CHICKEN PARMESAN USING FROZEN GRILLED CHICKEN:
Cook 2 fillets of Tyson Frozen Grilled Chicken Breast on the stove top, top with a generous spoonful of spaghetti sauce, sprinkle with mozzarella cheese. Boil thin Spaghetti, drain and mix with remaining pasta sauce, serve with salad.
Total Cost at Wegmans: $6.51
CHICKEN PATTY SANDWICH AND BAKED BEANS
Total Cost at Wegmans: $4.92
PANCAKES, FRENCH TOAST, OR WAFFLES:
Wegmans Buttermilk Pancake mix, just add water, or extra white bread soaked in milk, eggs, and vanilla, or toaster Waffles if your desperate, scramble up some eggs, heat up some fully cooked sausage and add a banana.) Total Cost at Wegmans: $3.97 with TONS of extra pancake mix, and extra sausage for leftovers.
This makes for crazy cheap dinners!
SPAGHETTI AND MEAT SAUCE
Boil a box of spaghetti, mix in a jar of meat sauce, serve with salad and toast with butter. Total Cost at Wegmans: $3.38
PIZZA BAGELS:
Grab a bagel, slice it open, and toast. Spoon on pizza sauce, sprinkle with shredded cheese and top with your favorite toppings, serve with salad. Total Cost at Wegmans: $4.99
BROCCOLI CHEDDAR SOUP WITH GRILLED CHEESE SANDWICHES:
This stuff is genius! Throw two cups of condensed cheddar cheese soup, three cups frozen chopped broccoli, three cups of milk, and one cup of frozen potatoes O'Brien in a pot, bring to a boil, then simmer for 5 minutes. Done! Its delicious! Add toast and warm with butter and cheese to serve.)
Total Cost at Wegmans: $7.76, provided you have toast and lunch cheese in the house already, if not… add an extra two dollars. This also leaves half a bag of broccoli and half a bag of potatoes O'Brien to supplement another meal.
TACO SALAD (Mixed romaine, ground beef, taco seasoning, iceberg, corn, cheddar cheese, chopped tomato, ranch dressing, southwest topping), plain cheese quesadilla on the side. (Brown the ground beef, throw the lettuce in a bowl and chop up the tomato, add the tomato to the lettuce, add the can of corn on top, add the ground beef and mix up, sprinkle with cheddar cheese, serve in bowls and add ranch dressing and southwest salad topping to your preference.)
Total Cost at Wegmans: $12.22, with extra ingredients that can be used to make the grilled chicken quesadilla for the next nights meal. **If you keep the beef and salad separate and serve together in bowls, you can wrap up leftovers and mix together when you're ready to eat again.
This is on the more expensive side of the cheap dinners, but because we can usually get at least 2 dinners out of it, it's still on the list.
Update: Are you struggling with chronic disorganization? I know exactly how you feel… 3 years ago I was a mess. I spent tons of money on groceries only to end up at the drive-thru. I've learned something since then… the key to change is keeping it super simple.
If you're ready to finally get this under control, You can learn more about our Hot Mess to Home Success course here… where we'll walk you through the simple routines that will change everything about the way you manage your home routines.
Cheap dinners that can be made in 15 minutes are pretty much the best thing ever!
Need more easy dinners?
If you struggle with getting super easy and cheap dinners on the table, I can tell you what's worked for us.
You can see our favorite 15-minute meals here and then we found out about this freezer cooking service that cut our grocery budget in half.
Neither require much cooking skill and you can save a fortune on your grocery budget!
You can now join the 90 Day Budget Boot Camp for free! Get step by step instructions for how to set up a budget, maintain a budget, and save money. With hundreds of success stories and reviews, this is not an opportunity you want to miss! Join the Budget Boot Camp here.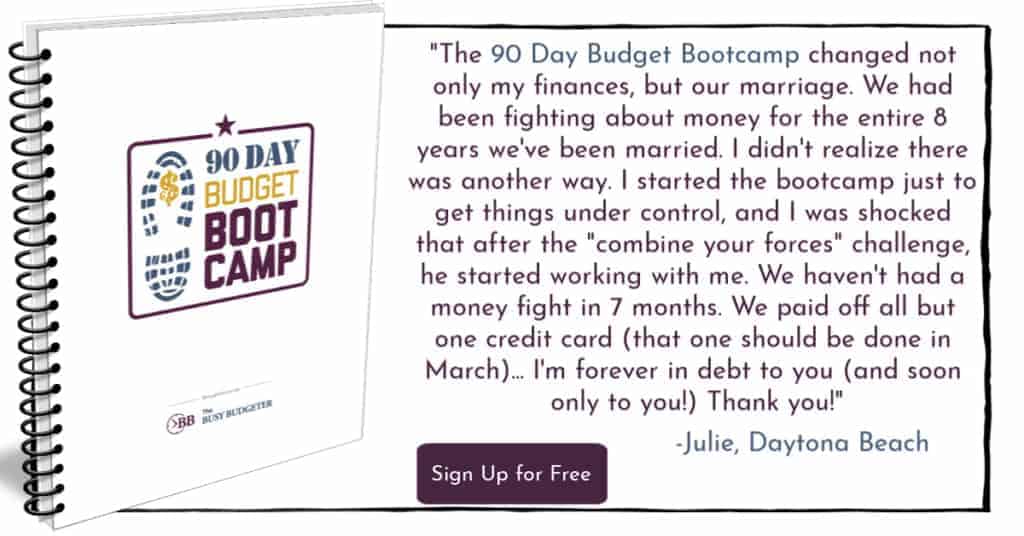 Want more 15 minute meals? Click the photos below for more cheap dinner ideas…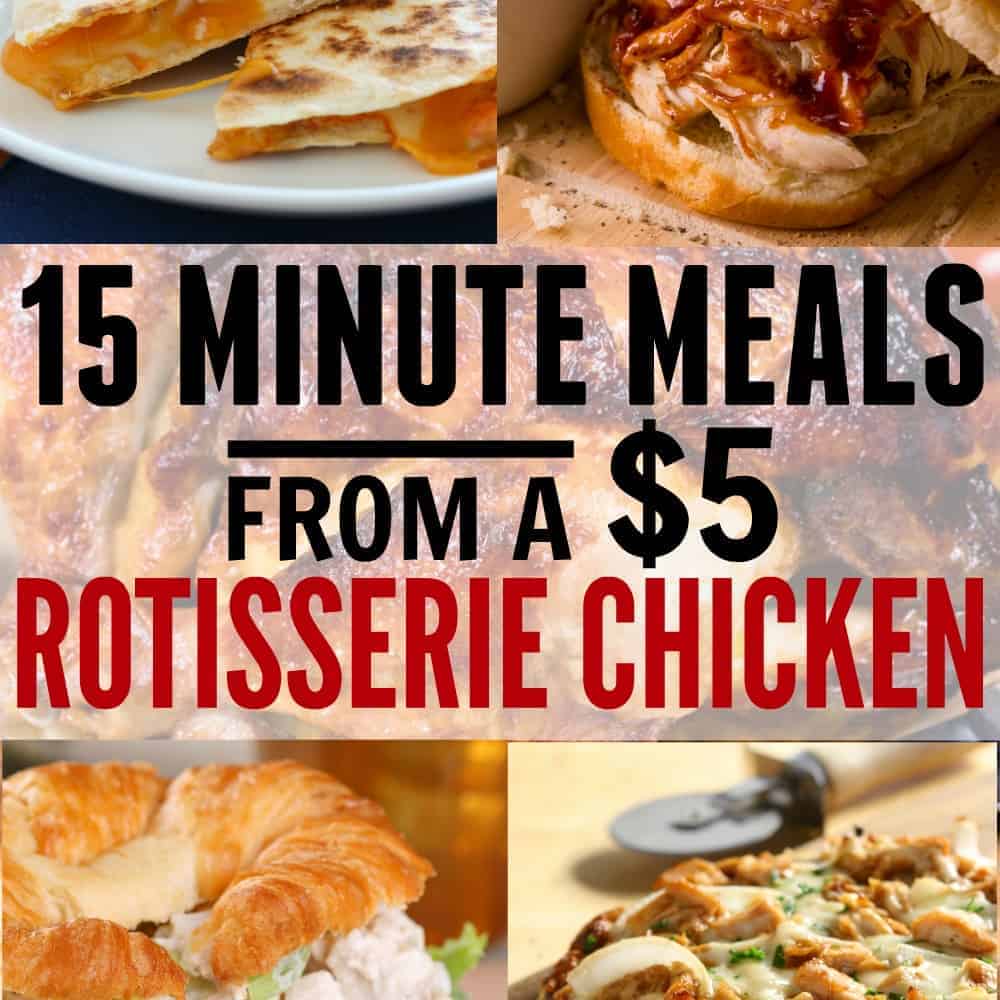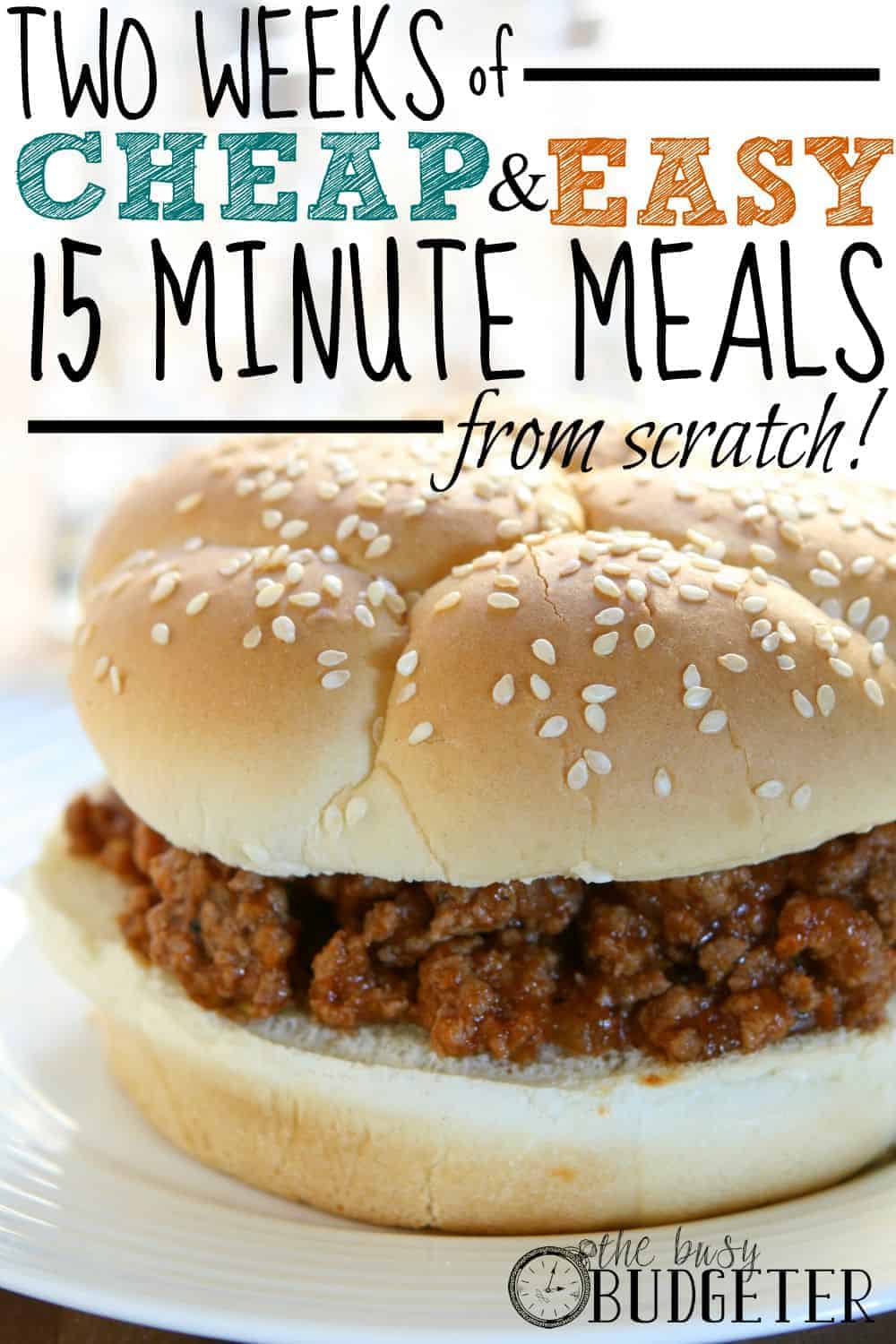 As seen on Living Well, Spending Less "Thrifty Thursday" Link up. Click here to check out all of the other ideas!
This post may contain affiliate links. If you click & make a purchase, I receive a small commission that helps keep the Busy Budgeter up and running. Read my full disclosure policy here.